---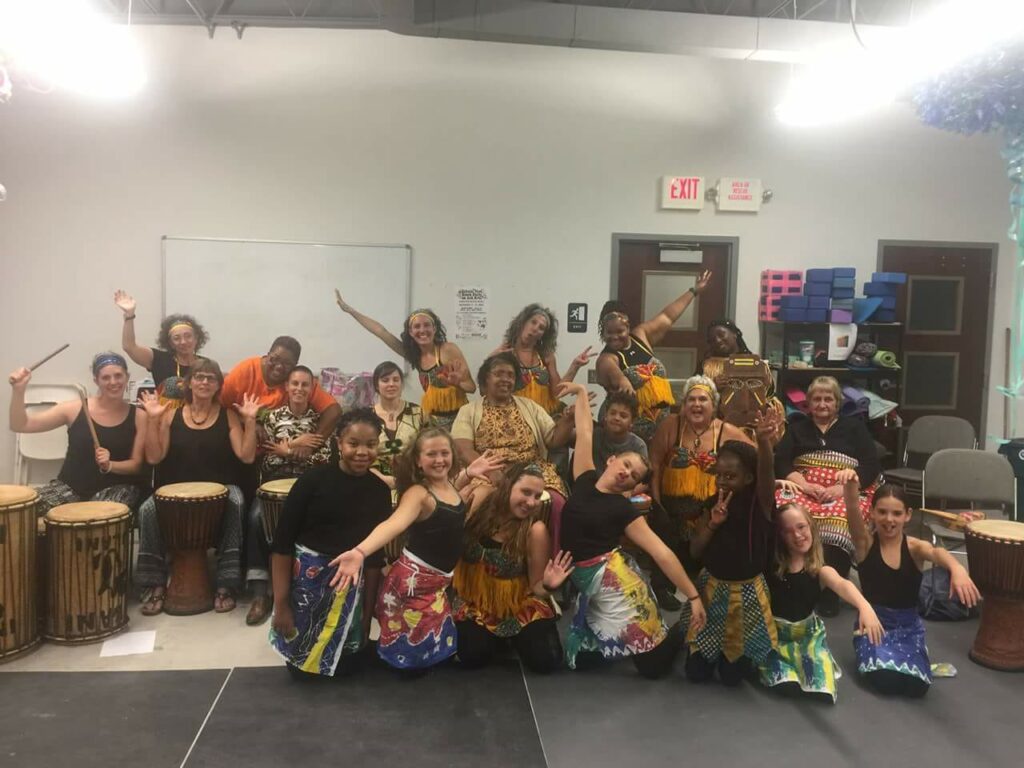 Kulani – West African Dance Class
Mondays from 5:30 – 6:15
Classes begin on September 19, 2022!
Ages 5+
Join Kulani for West African Dance fun! Ms Gwen and Ms Holly continue to bring West African Dance to the Johnstown Community. Your children ages 5 and up will learn the art of dance, and drumming, as passed down from generation to generation in Western Africa. These instructors traveled to Guinea and have been sharing what they learned from their amazing Guinean teachers since 2014.
All kids ages 5 and up are welcome, a $5 donation per session is recommended, but not required.
---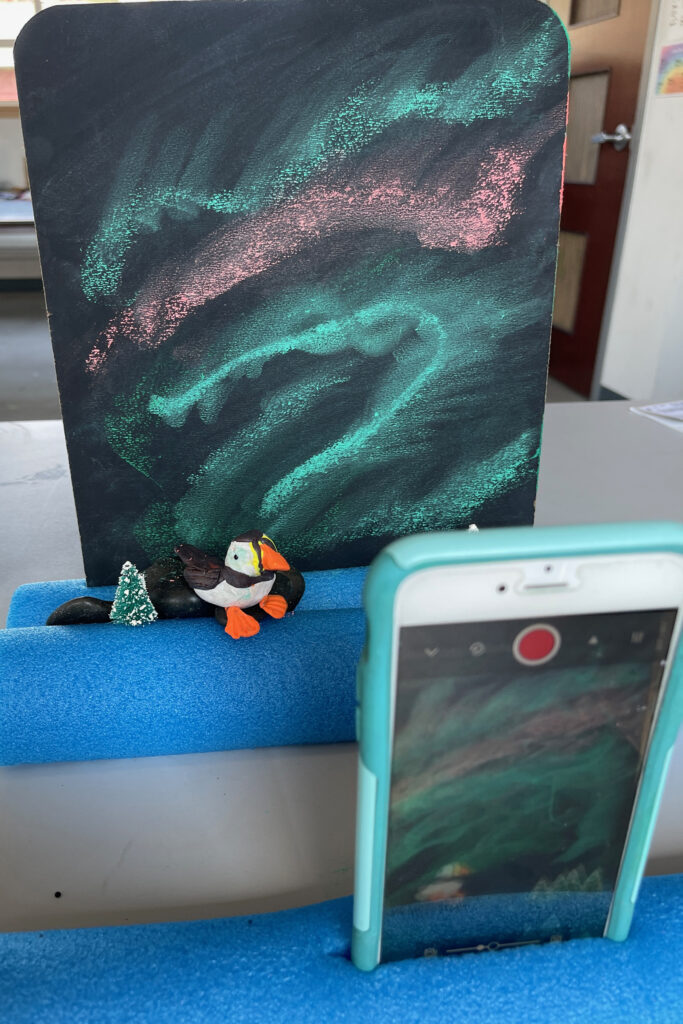 Winter Camp 2022- The Aurora Borealis Adventure
December 27-29 from 9 AM – 3 PM
Winter Camp BW 2022- The Aurora Borealis Adventure
December 27, 28, 29 2022
9am-3pm
Ages 7-12
Join us for Winter Camp BW 2022- The Aurora Borealis Adventure! Students ages 7-12, will draw, paint, sculpt, learn stop motion animation, and play games. This year's art camp is inspired by the Northern lights and the animals and plant life that call polar regions home. We will use chalk pastels, blackboards, 3D sculpture, plastilina modeling clay, and digital technology to create unique Northern Lights stop motion animation scenes. Our animations will move and dance like the real Aurora Boriellas. Each camper will "adopt" a polar animal for the week to learn about, draw, and sculpt. We'll also craft colorful luminaries. In our winter camp tradition, we will get wild and wacky during our winter games, featuring our infamous indoor snowball fight!
Enroll Early & Easily Online:
Winter Camp BW is three days, December 27, 28, 29. Camp is 9am – 3pm each day. Space is limited and we expect the camp will sell out. Secure your spot early by paying online and filling out the enrollment form (www.bottleworks.org),
Early Bird Pricing is available until November 30. The registration deadline is December 19.
Camp Cost – Three-day Registration:
Early Bird (until November 30) $90 for Non-Members
Early Bird (until November 30) $85 for BW Members
$95 for Non-Members
$90 for BW Members
Instructors TBA
Before and After Care is not available
---
Arts Academy 2023
Nine Consecutive Saturdays ٠ Starting January 28, 2023!
Session Times for Ages 8-12
9:30AM – 12:00PM
Session Times for Ages 13- 18
1:00PM – 3:30PM
Do you have a love for art? Are you looking to blossom your talent & skills? The Bottle Works Ethnic Arts Center invites you to come on an artist journey during our 2023 Arts Academy: Winter Session! Over the course of nine consecutive Saturdays, young creatives will be immersed in fine arts learning along with professional artists and art educators. You will be challenged to develop your technical skills, explore art disciplines, and discover your creativity. Bottle Works is committed to creating a hub for artistic development and growth. Our mission is to nurture these young people who will become artists, creators, innovators, and leaders of tomorrow!
The Winter session focuses on three disciplines: Drawing, Painting, and Folk Arts. The three disciplines are broken into three-week segments. Each week, students will engage with various art professionals/ educators who are masters in their trade. Students are encouraged to develop their own project ideas and engage in the creative process. At the end of each segment, participants will make several art pieces that will be showcased during the 2023 Arts Academy Exhibition at the Bottle Works! All class materials and supplies are included.
CREATE YOUR OWN PATH—To obtain the complete Arts Academy experience, we encourage participants to enroll in all nine weeks. You also have the choice to partake in three-week segments that most interest you. For creatives participating in the ENTIRE nine-week session, they will earn a "Master of Arts Certificate" during our Arts Academy graduation ceremony.
Arts Academy will now offer two sessions for different age groups.
Register Today!
We accept all forms of payment: cash, check, money orders, and all major credit cards (VISA, Mastercard, Discover, and AMEX)
Full Arts Academy Registration Fee (attending all nine-weeks)
$275 Non-Members
$255 for BW Members
Three-Week Segment (Drawing, Painting, or Folk-Art)
$100 Non-Members
$95 for BW Members
Arts Academy is a dynamic art experience that you cannot find anywhere else! Space is limited. To ensure your spot, register online today! Advance payment is required to secure registration. If you are experiencing financial hardship, full and partial scholarships are available upon request. Precedence is given to participants enrolling for the ENTIRE NINE-WEEKS. Funds are limited and are awarded on a rolling basis. To apply for an Arts Academy Scholarship online. Please click HERE.
For questions regarding Arts Academy and other Youth Programs at the Bottle Works, please contact Youth Education Coordinator Holly Lees via email Hlees@bottleworks.org.
Segment One: Drawing in Perspective with Brandon Mcdonald- MFA
Class Dates: January 28, February 4 & 11
This segment is suitable for students interested in any style of drawing at any skill level. We will spend three weeks working on the foundational skill of drawing in perspective. Using varied subject matter and the student's interest and inspiration, we will begin by learning one-point perspective and building to learning two-point perspective. Students will have small outside assignments to apply what was learned and choose what piece they would like to showcase in our Arts Academy Student Work Exhibit.
About the Instructor:
Brandon McDonald is a visual artist working out of North Huntingdon, Pennsylvania. He has his Master of Fine Arts degree in Drawing with a minor in Woodworking.
Segment Two: Painting –Exploring Acrylics with Joanne Mekis-BFA
Class Dates: February 18 & 25, March 4
Over this 3-week segment, students will create two unique painting projects.
Learning skills of observational drawing with paint, color theory, color mixing, composition, and creative visioning, students will create an acrylic painting on canvas of an abstracted still life. For the second project, students will create a watercolor illustration of a plant or animal of their choice using watercolor paint and gouache.
About the Instructor:
Joanne Mekis is an award-winning graphic designer, painter, and art educator. She creates from her home and artist studio at the Bottle Works Ethnic Arts Center. Joanne loves art from different cultures. When creating art, she pulls from her own Slovak heritage and the other heritages around here. Joanne has been an Arts Instructor at Bottle Works for more than 15 years. Her summer camps and workshops for youths, teens, and adults are often fan favorites.
Segment three: Folk Art – Mask Making with Sarah Gayle- Artist, Illustrator, Author
Class Dates: March 11, 18 & 25
Masks in their multitude of forms have been present in almost all societies across the globe for
as long as we can tell. They were for practical use as well as decorative use and for story telling. During this three week segment of Arts Academy, we will look at examples and explore creating paper masks by cutting, folding, scoring, painting, and building mask parts for three unique paper masks.
About the Instructor:
Sarah Gayle has more than 20 years of experience as both a student and instructor of the arts. She loves creating fun and accessible classes for many age ranges. Her diverse artistic interests have led her to acrylic painting, watercolor, drawing, illustration, book cover, design, paper arts, costuming and more. She is a recent transplant to the Johnstown community and Bottle Works is happy to have her joining our instructional team!
---
Mindfulness and Arts
Making a difference in your classroom
Our Mindfulness and Arts Initiative seeks to engage youth within local schools and community organizations by employing the Mindful Schools curriculum coupled with arts. Through the application and practice of The Mindful School's curriculum, we aim to provide an outlet for behavioral, emotional, academic, and social growth and support. Programming is held at your school/organization, or at the BOTTLE WORKS.
The Mindful Schools (mindfulschools.org)
What is mindfulness? Mindfulness is the quality of deliberate attention, of bringing purposeful awareness to one's experience.
What are the benefits of mindfulness?
Over thirty years of research demonstrates that mindfulness improves:
Emotional Intelligence
Decision-Making Skills
Academic Achievement
Body and Thought Awareness
Impulse Control
Stress Management
Improved Focus
Compassion towards others and self
Log on to http://www.mindfulschools.org in order to find out more. Mindfulness and Arts Program: This Mindfulness and Arts program teaches mindfulness tools while engaging students in the joy of arts. We use the Mindful School curriculum to teach youth how to improve decision-making skills, impulse control and stress management. Among others, the lessons include: mindfulness of breath, mindfulness of emotion, mindfulness of thought, mindful eating, compassion toward self and others, and body awareness. The art lessons will provide students with practice and applicability by utilizing the learned mindfulness skills. Students will engage in many various forms of art that may include drumming, creative writing, watercolor, zentangle, and clay. This programming can be tailored for any grade. We are looking to partner with schools and community organizations, as students would benefit.
The in-classroom Mindfulness and Arts Program is an eight- or sixteen-week program that occurs twice weekly.
For more information, contact Holly Lees, BOTTLE WORKS Mindfulness and Arts Facilitator, at hlees@bottleworks.org or 814.535.2020.
What are people saying?!?
"Students were made aware of ways to maintain self-control which is extremely important today. Also, it is quite beneficial for students to have the strategies presented to fight stress. I think students partially enjoyed the art lessons that related well to the mindfulness teachings."Mr. Roberts 6th grade teacher at Conemaugh Valley Elementary"I definitely will use mindfulness tools for the rest of my life" ~ 6th-grade student"Thank you for teaching me how to keep my body calm. I especially like how we used mindful breathing."
~ 5th-grade student"Mindfulness helps with situations. When I'm mad, I use mindful breathing"~6th-grade students
---
Please note that the Bottle Works engages in photography and recording of programs and events for its own print and online publication/promotional purposes. Staff and volunteers will make every effort to notify members of the public when filming and/or photography is taking place. Please notify a staff member/volunteer if you do not want to be photographed or filmed.