---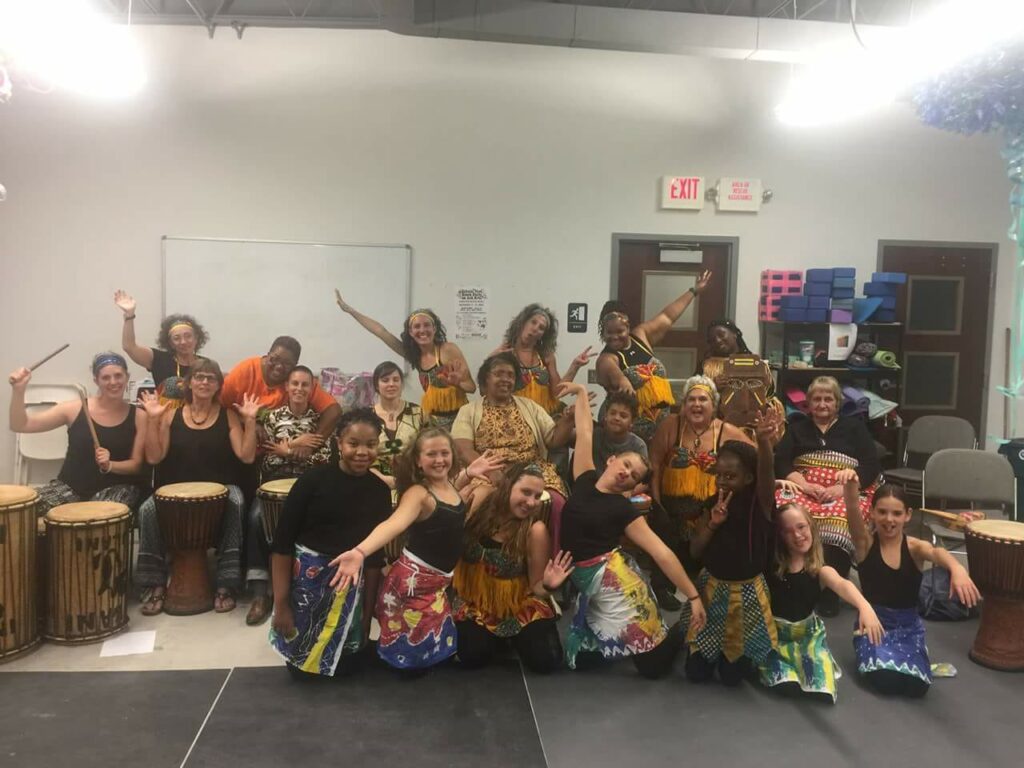 Kulani – West African Dance Class
Mondays from 5:30 – 6:15
Stay tuned for new dates in 2022!
Ages 5+
Join Kulani for West African Dance fun! Ms Gwen and Ms Holly continue to bring West African Dance to the Johnstown Community. Your children ages 5 and up will learn the art of dance, and drumming, as passed down from generation to generation in Western Africa. These instructor traveled to Guinea and have been sharing what they learned from their amazing Guinean teachers since 2014.
All kids ages 5 and up are welcome, a $5 donation per session is recommended, but not required.
---
Nine Consecutive Saturdays ٠ Starting January 29, 2022!
Session Times for Ages 8-11
9:30AM – 12:00PM
Session Times for Ages 12- 18
1:00PM – 3:30PM
Do you have a love for art? Are you looking to blossom your talent & skills? The Bottle Works Ethnic Arts Center invites you to come on an artist journey during our 2022 Arts Academy: Winter Session! Over the course of nine consecutive Saturdays, young creatives will be immersed in fine arts learning along with professional artists and art educators. You will be challenged—developing your technical skills, exploring art disciplines, and discovering your creativity. The Botte Works is committed to creating a hub for artistic development and growth. Our mission is to nurture these young people who will become artists, creators, innovators, and leaders of tomorrow!
The Winter session focuses on three disciplines: Drawling, Painting, and Folk Arts. The three disciplines are broken into three-week segments. Each week, students will engage with a variety of art professionals/ educators who are masters in their trade. Students are encouraged to develop their own project ideas and creative process. At the end of each segment, participants will make several art pieces that will be showcased during the 2022 Arts Academy Exhibition at the Bottle Works! All class materials and supplies are included.
CREATE YOUR OWN PATH—To obtain the complete Arts Academy experience, we encourage participants to enroll in all nine-weeks. You also have the choice to partake in three-week segments that most interests you. For creatives participating in the ENTIRE nine-weeks session they will earn a "Master of Arts Certificate" during our Arts Academy graduation ceremony.
NEW THIS SEASON – Arts Academy will now offer a unique journey for participants 12 to 18. This session is 1:00PM – 3:30PM.
The 2022 Arts Academy Season will be hosted in-person. To ensure the safety of our participants, guest instructors, and staff, we will be following all mitigation efforts and guidelines outlined by the CDC. To read our safety guideline please click HERE!
Register Today!
We accept all forms of payment: cash, check, money orders, and all major credit cards (VISA, Mastercard, Discover, and AMEX)
Full Arts Academy Registration Fee (attending all nine-weeks)
$275 Non-Members
$255 for BW Members
Three-Week Segment (Drawing, Painting, or Folk-Art)
$100 Non-Members
$95 for BW Members
Arts Academy is a dynamic art experience that you cannot find anywhere else! Space is limited. To ensure your spot, register online today! Advance payment is required to secure registration. If you are experiencing financial hardship, full and partial scholarships are available upon request. Precedence is given to participants enrolling for the ENTIRE NINE-WEEKS. Funds are limited and are awarded on a rolling basis. To apply for an Arts Academy Scholarship online. Please click HERE.
For questions regarding Arts Academy and other Youth Programs at the Bottle Works, please contact Youth Education Coordinator Holly Lees via email Hlees@bottleWorks.org.
About Arts Academy
2022 Arts Academy provides three learning experiences for the aspiring artist. Go on the full journey by registering for the entire nine-week session, or create your path based on your own interest.
Segment One: Drawing – Building Foundation and Capture Creativity
Class Dates: January 29; February 5 & 12
During this segment, students will learn the foundational skill of drawing and harness their creativity. The following skills will be taught within three weeks: observation drawing, expressive mark making, and shading & composition. Each student will use professional grade tools and supplies such as graphite, charcoal, ink, colored pencils, and more!
Instructor and project details will be announced soon!
Segment Two: Painting – Inspiration from Experimentation
Class Dates: February 19 & 26; March 5
The greatest creations often come from taking risks, and students in segment two will be dared to take dive deep into their imagination. Within these three weeks, students will increase their knowledge of color theory, composition, and technical application. Students will be working with acrylics and watercolors. 
Segment Three: Folk Art – Learning the Traditional Craft
Class Dates: March 12, 19, & 26
Thanks to our friends from the Pennsylvania Council on the Arts Folk & Traditional Arts Partnership, students can explore the world of Folk & Traditional Arts! Art can be representative of one's specific ethnic, religious, linguistic, occupational, or regional group. These arts are shaped and shared within families, neighborhoods, and communities—moving from generation to generation. This cycle is an on-going participation in community-based activities. These art forms are taught through observation, practices, and/or apprenticeships with elders and masters, rather than institutional instruction, books, and classes.
Segment One: Drawing- Building Foundation and Capture Creativity
Class Dates: January 29, February 5 & 12, 2022
Session One: Foundational Skills & Individual Learning with Artist Norman Ed
Class Date: January 29
Strong foundational skills and techniques are essential building blocks in becoming an accomplished artist. For session one, refresh your knowledge in art basics with art educator and artist Norman Ed. Learn various drawing styles such as observational drawing (drawing what you see) and gesture drawing (drawing movement), and so much more. This lesson will take your perception and perspective skills to the next level.
About Norman Ed: Norman Ed is a talented artist with more than 60 years of art experience. He earned an art degree from Temple University. Norman practices a number of art disciplines including sculpture, drawing, painting and wood making to name a few. He is best known for his time as an arts educator for the Westmont Hilltop School District. As a retired educator, he spends his time making music with friends, gardening, and baking.
Website: Normaned.com
Session Two: Creating Comic book Characters & Art Mentoring with Artist Khoi Pham
Class Date: February 5
For an artist, it is not only important to know how to make art, but it is equally valuable to know WHO you are making art for. During session two, professional comic book artist Khoi Pham will teach students how to identify their audience and make art with that group in mind. Khoi will also coach you through the creation process answering all your questions as you create your own comic book character and stories.
About Khoi Pham: Khoi Pham is internationally known for his work within the comic book industry. He wsa worked for Marvel Comics and DC. As a professional artist for these two companies, he has the opportunity to draw superheroes that we all know and love. His work includes DC's Teen Titans, Marvel's Mighty Avengers, X-Men Legacy, Scarlet Spider, Spider-Man, Incredible Hercules, Mighty Thor, and more. Aside from creating art himself, Khoi also manages his own art mentoring company based in Philadelphia. Before switching to art as a profession, Khoi was an attorney and venture capitalist, earning his law degree from the University of Pennsylvania and his MBA from Saint Joseph's University.
Website: Khoipham.com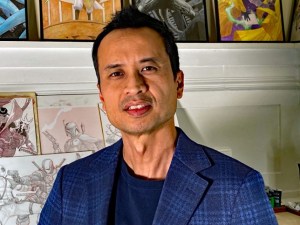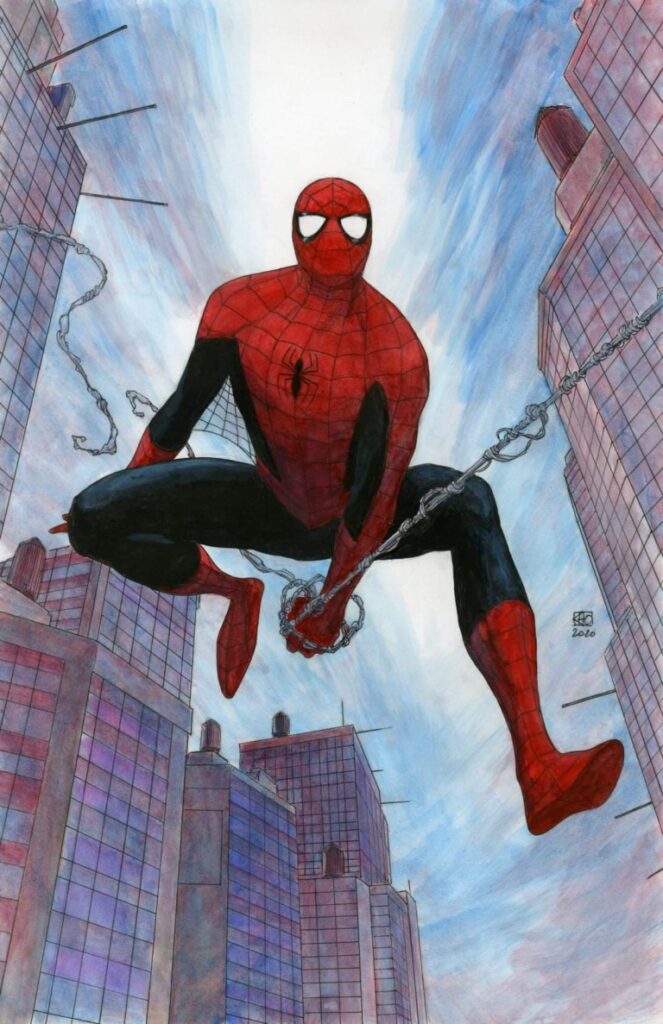 Session Three: The layering Effect – Exploring Blending and Shading with Pencils with Artist Joanne Mekis
Class Date: February 12
When you master layering and blending skills, all the other techniques become icing on the cake. Using professional-grade colored pencils, Artist Joanne Mekis will teach students how to layer color effectively on paper. Each time you lay one color atop of another, you are blending. Light then moves through the different colors and mixes them so your eye can see a new color. Cool, huh! This technique adds dimension to your art whether it be realistic or abstract. Students are asked to bring a photograph, not a drawing, as a reference for this session.
About Joanne Mekis: Joanne Mekis is an award-winning graphic designer, painter, and art educator. She creates from her home and artist studio at the Bottle Works Ethnic Arts Center. Joanne loves art from different cultures. When creating art, she pulls from her own Slovak heritage and the other heritages around here. Joanne has been an Arts Instructor at the Bottle Works for more than 15 years. Her summer camps and workshops for youths, teens, and adults are often fan favorites.
Segment Two: Painting – Inspiration from Experimentation
Class Dates: February 19 & 26, March 5
For all three sessions, students will work alongside artist and art historian Marjorie Moyer to create a work of art that has hidden meanings and symbolism. She will also teach the students how to properly perform a professional-style critique of each other's artwork. Each student will be asked to create an allegorical portrait using watercolors,acrylic paint, or monoprints. In this form of portrait making, the painting will give special insight on the artist's world views and personal values, which are embedded into their artwork.Once the work is complete, participants will learn how to professionally mat their art.
About Marjorie Moyer: Marjorie is an artist, art historian, and art restorer. She has been teaching art history, painting, sculpting, and mixed media art classes at Penn Highlands Community College since 2015. Marjorie earned a bachelor's degree in art from Pennsylvania State University and a master's degree in art history from Virginia Commonwealth University. While living in Virginia, she participated in various classes and workshops exploring art media such as printmaking, oil painting, encaustic, monotype and etching at the Virginia Museum of Fine Art -Studio School.
Segment three: Folk Art – Learning the Traditional Craft
Class Dates: March 12, 19 & 26
Soggy and limp paper dipped in water and flour can create hardened sculptures that can blow your mind! Over the course of three sessions, aspiring creatives will make their own paper mâché creature with sculptor and folk arts artist Colleen Albright.
Session One: It's All About the Base
Class Date: March 12
The key to making a strong sculpture is creating a strong base. Paper mâché bases can be made from a number of recycled goods. Materials include cardboard, plastic forms, and other items. Collen will show you how to form the "skeleton" of your paper creature.
Session Two: Body Buildout
Class Date: March 19
In the second session, artists will build upon the armature base created previously. Students will begin to add detail to their form slowly transforming a blob of wet newspaper into a majestic sculpture.
Session Three: Complete Sculpture
Class Date: March 26
In the last and final session, artists will put the final touches to their paper mâché project. They will learn how to create texture and other surface treatments for their sculpture.
About Colleen Albright: Colleen Albright is a mixed media artist whose work questions the boundaries between three-dimensional and two-dimensional artwork. Her work is based upon life and human experiences. Collen chooses to manipulate the shape and form of the body taking influence from natural elements and biomorphism (the artistic interpretation and exploration of our connection to living organisms, whether beautiful, creepy or even grotesque.) Collen earned an arts degree with a focus on sculpture and drawing.
---
Mindfulness and Arts
Making a difference in your classroom
Our Mindfulness and Arts Initiative seeks to engage youth within local schools and community organizations by employing the Mindful Schools curriculum coupled with arts. Through the application and practice of The Mindful School's curriculum, we aim to provide an outlet for behavioral, emotional, academic, and social growth and support. Programming is held at your school/organization, or at the BOTTLE WORKS.
The Mindful Schools (mindfulschools.org)
What is mindfulness? Mindfulness is the quality of deliberate attention, of bringing purposeful awareness to one's experience.
What are the benefits of mindfulness?
Over thirty years of research demonstrates that mindfulness improves:
Emotional Intelligence
Decision-Making Skills
Academic Achievement
Body and Thought Awareness
Impulse Control
Stress Management
Improved Focus
Compassion towards others and self
Log on to http://www.mindfulschools.org in order to find out more. Mindfulness and Arts Program: This Mindfulness and Arts program teaches mindfulness tools while engaging students in the joy of arts. We use the Mindful School curriculum to teach youth how to improve decision-making skills, impulse control and stress management. Among others, the lessons include: mindfulness of breath, mindfulness of emotion, mindfulness of thought, mindful eating, compassion toward self and others, and body awareness. The art lessons will provide students with practice and applicability by utilizing the learned mindfulness skills. Students will engage in many various forms of art that may include drumming, creative writing, watercolor, zentangle, and clay. This programming can be tailored for any grade. We are looking to partner with schools and community organizations, as students would benefit.
The in-classroom Mindfulness and Arts Program is an eight- or sixteen-week program that occurs twice weekly.
For more information, contact Holly Lees, BOTTLE WORKS Mindfulness and Arts Facilitator, at hlees@bottleworks.org or 814.535.2020.
What are people saying?!?
"Students were made aware of ways to maintain self-control which is extremely important today. Also, it is quite beneficial for students to have the strategies presented to fight stress. I think students partially enjoyed the art lessons that related well to the mindfulness teachings."Mr. Roberts 6th grade teacher at Conemaugh Valley Elementary"I definitely will use mindfulness tools for the rest of my life" ~ 6th-grade student"Thank you for teaching me how to keep my body calm. I especially like how we used mindful breathing."
~ 5th-grade student"Mindfulness helps with situations. When I'm mad, I use mindful breathing"~6th-grade students
---
Please note that the Bottle Works engages in photography and recording of programs and events for its own print and online publication/promotional purposes. Staff and volunteers will make every effort to notify members of the public when filming and/or photography is taking place. Please notify a staff member/volunteer if you do not want to be photographed or filmed.