Black Box Theater
The Black Box Theater, located in our historic Tulip building, is an intimate spot for up to 40 guests for birthdays, baby showers, meetings, lectures, presentations, performances, and more.
Call us at 814-535-2020 for more information, or to schedule a walk through.
---
FNB Pop Plaza
The new FNB Pop Plaza is an amazing outdoor option for your event! The plaza includes gable walls with light effects at night, lighted benches, the Pop Plaza rain garden and bioswale, and a beautiful Allegheny Mountain backdrop. Pop up canopies and chairs are available. Let the Bottle Works help you pull off your perfect event!
Call us at 814-535-2020 for more information, or to schedule a walk through.
---
Jackie's Garden Works Green Roof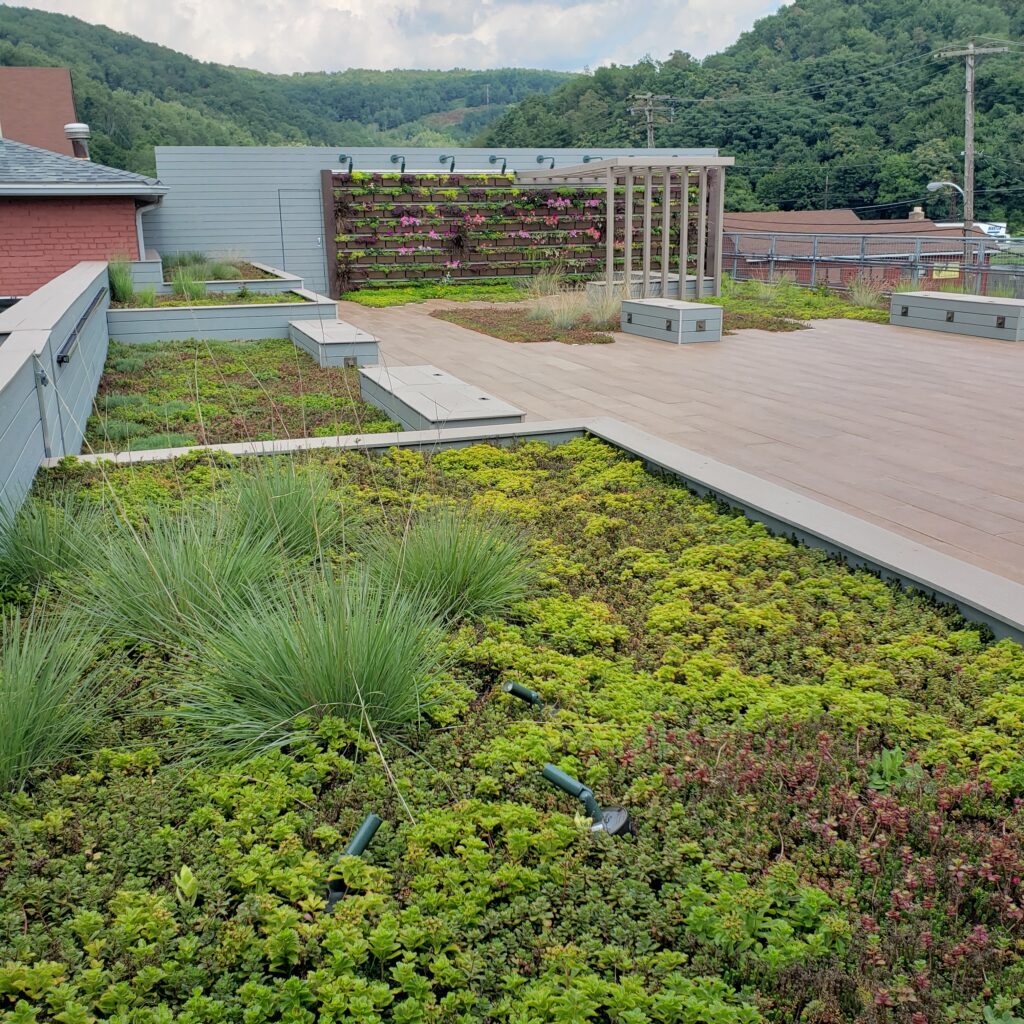 Have your party at the most unique venue in Johnstown!
Five years in the making, The Green Roof at the Bottle Works will be open this June! You can be one of the first to enjoy our new outdoor green space, the jewel of our Third Avenue Arts Campus. Rentals are available for parties of all types for up to 100 guests. Bottle Works Members (Arts Influencer or higher) qualify for discounts on all rooftop rentals. We are offering this one of a kind space at an introductory rate for 2019 of $150/hour for the first three hours, and $75/hour for every hour after that. Other charges may apply depending on your event needs.
Not a Member yet? Don't hesitate! Become a MEMBER and be the first to enjoy Johnstown's most innovative outdoor venue: the Green Roof at the Bottle Works.
Bookings available now! Call 814-535-2020.
Receptions – Corporate Events – Showers – Cocktail Parties – Birthday Parties –Classes – Field Trips – Retirement Parties – Wine Tastings – Ceremonies
Due to the environmental nature of the Green Roof, use restrictions apply.
Maximum guests = 75.
Smoking is strictly prohibited.
Call us at 814-535-2020 for more information, or to schedule a walk through.
---
Main Events Room
The Main Events Room at the Bottle Works is the perfect space for your event! While renting the Events Room, your guests will be able to tour the galleries and browse the Gallery Shoppe. Studio artists have 24/7 access to their studios, therefore they maybe in their studios during your event. Artists will be asked to be respectful of your event and guests. Your guests should feel free to stop in and watch them create.
The Multipurpose Room size is 40' x 74'. Seating capacity: 200 guests at tables, 225 people in theatre style, or 257 standing.
Call us at 814-535-2020 for more information, or to schedule a walk through.
---
Birthdays at Bottle Works!
2 – hour birthday party, Saturdays, 12:30-2:30
$375 (includes artist for one hour and all supplies for up to 20 kids)
For each additional participant it is $12.50, must get the final count 3 days in advance.
If the parties want to book additional time it is $75/hour.
The artist will come up with the actual concept of the party depending on the age and interest of the birthday child.
BOTTLE WORKS staff will want to know age, gender and interest the birthday child. (ballet, soccer, music or maybe it's just art that is fine!)
Bring your own food, drinks and paper products.
ADD ON:
Decorate your own cupcake
it is $25 per dozen (either chocolate or vanilla). Each child will get their own cupcake with icing and they can choose their own creative design with sprinkles and candy provided through BOTTLE WORKS.