Current Exhibits
An Exploration of Form
Colleen Albright
September 15 – October 22
Join us for An Exploration of Form in the Main Gallery at the Bottle Works Art Works building. Colleen Albright exhibits mixed media art in both 2D and 3D with paper mache sculptures featured heavily. Opening Reception will be held during our 3rd Thursday on 3rd Avenue Gallery Night on September 15, from 6-9 PM.
Colleen Albright
Exploring the relationship between the strange and beautiful drives my work. These two contrasting features work together to create a form that is intriguingly odd. Through my work, I am interested in the human experience and our connection with each other and nature. We are and have come from nature and there is a clear relationship that can further be explored by connecting these ideals. We have a collective experience that also breaks down to exist on individual levels.
The body is a repetitive form and image throughout my work. The representation of the body is both for aesthetic interest as well as for conceptual reasons. Distortions of the human form are used to create the sense of a loss of identity. The figures can be interpreted as an entity, not representative of a person per say, but the soul or consciousness within. It is a goal of mine to reverse the roles of inner thoughts and exterior expectations. This is done by altering and manipulation of the physical identity of the body and covering the exterior with collaged imagery.
I incorporate symbolic layers within my work to create a sense of depth and emotion. From a distance, the collaged surfaces appear to be a pattern, but as the viewer moves closer to new imagery, and meaning can be revealed. The colleges are composed of found paper and drawings, combined with the physical buildup of paint and imagery mimicking the process in which we create our identities. As we go through life, we are constantly collecting experiences and changing, and this process is critically important to my work.
---
Club Works Exhibit 2022
September 15 – October 22
The Club Works Exhibit 2022
Join us for this year's Club Works Exhibit! Featuring multiple mediums including 2-D, 3-D, and fiber art. This special exhibit held in our AmeriServ Activities Center will feature work from our Creative Director, Matt Lamb, MFA Kyle Reidmiller, illustrator Glenn Klimeck, painter and mural artist Chris Tower, and fiber artists Carol Churchey, Rayna Noel, and Miranda Fasnacht! Join us for the opening reception during our 3rd Thursday on 3rd Avenue Gallery Night on September 15, from 6-9 PM, alongside the opening of An Exploration of Form by Colleen Albright, another Club Works member.
Club Works is a weekly art meet up that occurs every Wednesday evening from 7-9 PM. Artists gather to create, socialize, collaborate, and critique. Club Works does not require membership, dues, or any registration. It is open to artists of all mediums.
---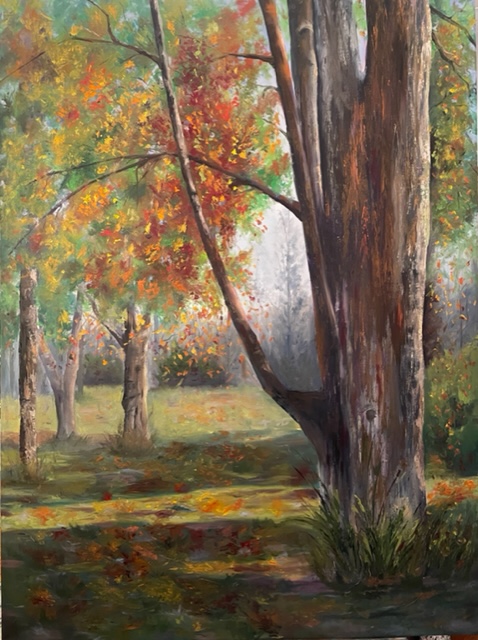 Paul Seymour – Second Act Artist
September 22 – October 22
Join us in the Black Box Theater for an exhibit featuring Paul Seymour- Second Act Artist. Opening Reception to be held on Sept 22 from 6-8 PM
Artist Statement –
Paul Seymour started to develop his artistic muscle as a very young child growing up in a home where the arts were revered. In fact, Paul's father became a stone sculptor later in his life. Paul's first expression in the arts was in the field of music. He received a degree in music education and pursued a wonderful 35-year career as a music teacher. However, in his late 20's, he developed a keen interest in the visual arts specifically as a painter and found that he had a natural affinity for painting. "There is something about color that is indescribably seductive but more importantly, creating something beautiful from nothing was too much to resist."
For over 30 years, Paul has been studying painting from various artists across the country. He started as an acrylic artist specializing in folk art but eventually transitioned to an oil painter with an interest in still life painting, floral painting, and most specifically, landscape painting. Paul can often be found outside behind an easel as he realizes that plein air painting and learning how natural light works is essential in developing the painterly realism that he desires. Currently Paul splits his time between plein air painting from life and studio painting as he finds that one informs the other.
After retiring from teaching, he threw himself into an art career and has found a thriving business as a selling artist. The business of visual arts has become his second act.
Artist Bio
Paul Seymour has been involved in the arts his entire life. Professionally, Paul spent his 35-year career as a music teacher in the Central Cambria School District. Currently, he is the Artistic Director at Cresson Lake Playhouse and works alongside his wife, Cathy, who is the Executive Director.
Paul feels that the artistic muscle can work fluidly through many of the arts and as a result, in addition to being a musician, he has been a visual artist for the last 30 years. He began as a folk painter specializing in Rosemaling, a painting style that originated in Norway. Paul moved on to the world of fine art and for the last several years has been active as a still life painter, floral painter and landscape artist and especially enjoys Plein Air painting. Paul and Cathy formerly owned an art shop in Ebensburg and taught painting at various locations across the United States.
---
Call to Artists!
Open Call to artists! Small Works in Large Space exhibition
Exhibition dates: November 5, 2022- December 31, 2022
Opening Reception: November 17 from 6-8 PM
Entry deadline: October 22, 2022
Bottle Works Arts on 3rd is a vibrant Arts center with spacious galleries exhibiting national and international art. In our largest gallery, we are exhibiting a miniatures show of works ( no larger than 12 inches) priced to sell during Holiday shopping season! We welcome new artists to exhibit with us. Bottle Works provides opportunities for artists and audiences to promote and celebrate the Arts through exhibits, education, and participation. The BOTTLE WORKS campus, consisting of the two contiguous, complimentary facilities is a unique destination on the local, regional and national scale, located within an historic tourist corridor where artists can exhibit, create, teach and sell, and visitors can explore and learn.
Eligibility: Artists must be at least 18 years of age to enter. All medium is eligible: drawings, photography, painting, fibers, print-making, ceramics, sculpture. All work must be original, not a reproduction, it must be the artist's original design, not done as part of a class. All work must be the property of the artist. All work must be for sale. The artwork must be no larger than 12" in any direction. All work must be securely mounted/framed, wired ready to hang, no saw tooth pieces will be accepted. Bottle Works reserves the right to deny any work's inclusion in the show if it is not properly mounted/framed, or if it looks different than the submitted image. Each artist may enter up to ten pieces of artwork.
The Bottle Works has enlisted the aid of some generous sponsor's to bring several awards to the Small Works Exhibit, including a "Best of Show" cash award of $200.
We have more awards to be announced as sponsors provide details, including a "Sweetest" piece award from Lambcakes!
Submission process:
• Upload images of up to 10 pieces of artwork that you want included in the exhibit. The images must be jpeg format, 300 dpi, 12" in height or actual size of the artwork. Save each image file with this information in the file name: artist's first and last name, entry number, and title of artwork. for example: JohnDoe.1.Portrait_of_the_King.jpeg or JaneDoe.2.Landscape_in_Red.jpeg
• Pay $35 entry fee online https://squareup.com/store/bottle-works-arts-on-3rd/item/small-works-entry-fee to enter up to 10 images.
• Complete and submit entry form.
Notification:
You will be notified of acceptance into the gallery exhibition via email. *All works will be accepted into the digital show.
Once notified of acceptance into the gallery exhibit deliver the excepted work to:
Bottle Works Arts on 3rd Avenue
411 Third Avenue
Johnstown, PA 15906
No later than Saturday October 29, 2022
Sales: Bottle Works retains a 30% commission of the sale price, while 70% goes to the artist.. Bottle Works staff will process sales of artwork. The art may be taken at the time of purchase, it does not need to remain in the exhibit for the length of the show. That is because this is during holiday shopping season, a great opportunity for artists to sell their work, so please price it to sell.
Liability: The work is insured while at Bottle Works. Our buildings are secure. You must include self-addressed pre-paid stamped packaging for return shipping of unsold work, or the work will not be returned. If you prefer to pick up your work make arrangements with Matt Lamb by emailing him at mlamb@bottleworks.org. If you need to make other arrangements, call 535-2020 to do so by January 12. Any work not picked up and without return shipping will become the property of Bottle Works.
Release: By entering art in this exhibit you agree to allow Bottle Works to use images and your name for promotional and documentation purposes.
---
Please note that the Bottle Works engages in photography and recording of programs and events for its own print and online publication/promotional purposes. Staff and volunteers will make every effort to notify members of the public when filming and/or photography is taking place. Please notify a staff member/volunteer if you do not want to be photographed or filmed.