Current Exhibits
---
The Last Picture Show – Kenneth Cotlar
Possibly the final solo show from Kenneth Cotlar in our region
June 2 – July 16, 2022
Join us for the opening reception on June 16, 2022, from 6-9 PM.
Kenneth Cotlar Artist Statement
My abstract paintings are process driven works created on various surfaces,
masonite, plexiglass, aluminum, or heavy raw duck canvas using acrylic, latex and oil paints.
My methodology involves readying myself by means of Transcendental
Meditation (relaxing and clearing the mind of preconceived images), and then executing a random mark, stroke, swath or pool of paint, and then each subsequent stroke is suggested from the previous. The concept is to get the painting to paint itself.
The process and the resulting image then, is what the painting is about. I
consciously try not to impose myself on the painting, yet become part of the natural random progression of the art. The images are mostly unconscious or intuitive and are intentionally non-representational.
Biography
Kenneth Cotlar, originally from in Bucks County, Pennsylvania; earned a BFA from Penn State University in 1969. He worked as a graphic design artist in Philadelphia for several years before moving to Cambria County to partner with his wife in business. He freelanced graphic design projects for various regional businesses as well as visual merchandising and advertising art. For three decades he painted sporadically, selling his works selectively. Retiring from business in early 2001, he returned to full time painting after graduate work at Indiana University of PA. His award winning paintings have been exhibited in numerous juried shows, one man exhibits, art festivals and are held in private collections
throughout the United States.
---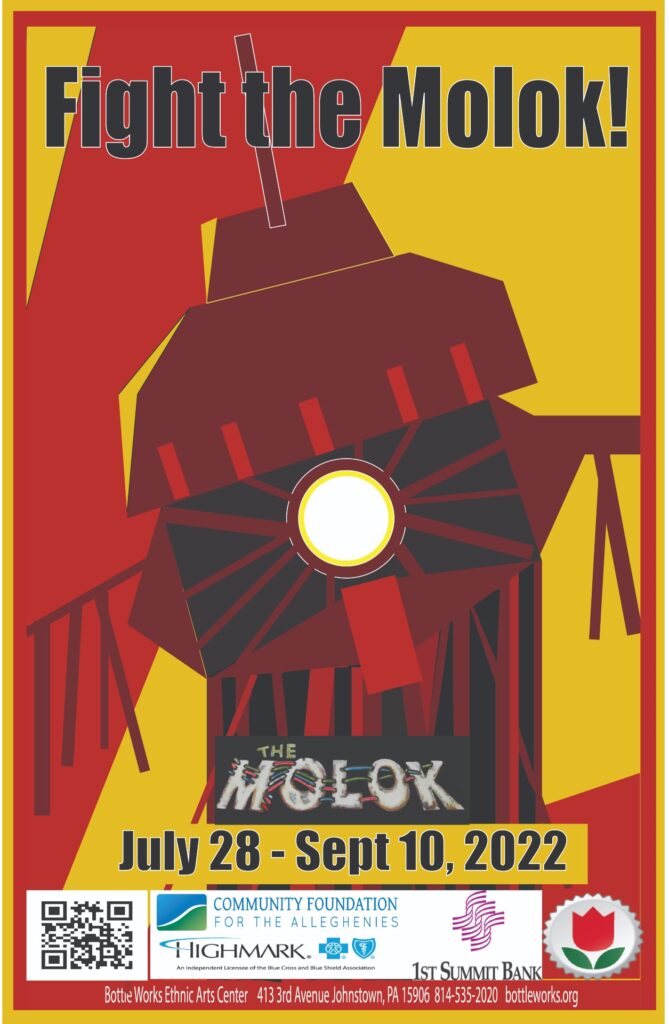 The Molok at Bottle Works is seeking object donations! Moving and need to get rid of old stuff? Got something special with a great story you want built into the puppet? Bring it on by! We love broken objects!

We'll be accepting loads of object donations for the next month in a lead up to our installation at Bottle Works opening Thursday July 28th!
Here are some examples of perfect objects to donate!
Bottle caps
CDs, DVDs
Mannequins, puppets and dummies
Bulk clothing – scarves, gloves, hats, uniforms
Black clothing in kids/teen sizes
Belts, suspenders, ties
Fabric, blankets, towels, rugs, tapestries
Old electronics- chargers, cables, wires, headphones
Cassettes and VHS tapes
Old TVs and monitors
Toys and games
Stuffed animals and dolls
Holiday decor and Halloween costumes
Glasses, wigs and jewelry
Old photos
Broken umbrellas
Crutches, walkers, canes, medical supplies
Sports equipment
Kites
Tarps, tents, shower curtains
Trophies, medals, awards
Musical instruments
Working microwaves
Rope, string, yarn, thread
Chicken wire, metal screen, metal mesh
Twist ties
Arts and crafts materials
Epoxy resin
Loaner video projectors
---
Please note that the Bottle Works engages in photography and recording of programs and events for its own print and online publication/promotional purposes. Staff and volunteers will make every effort to notify members of the public when filming and/or photography is taking place. Please notify a staff member/volunteer if you do not want to be photographed or filmed.