There's history at the BOTTLE WORKS…
The BOTTLE WORKS is housed on what was the former Tulip Bottling Company. The founders of that revered soda pop company, which produced soda of many wonderful colors, were Jacob and Renee Goldhaber.Johnstown was lucky to be chosen as the site for this family business, even if by mistake. Mr. Goldhaber was aboard a train for Youngstown, OH where he hoped for his family to settle among a large population of Hungarians. When the train conductor announced Johnstown as the next stop, Mr. Goldhaber mistook it for Youngstown and he disembarked. Upon landing, he realized that Johnstown is where he would start his future and bring his family. When it came time to name the business, Mrs. Goldhaber did not hesitate for a moment. It would be named for the national flower of her beloved homeland of Hungary, and so it became the Tulip Bottling Company.
Building update – 2011
The Tulip ruled in other ways: every style of glass bottle, and there were dozens, had a tulip on it. The complete Tulip bottle collection can be seen at BOTTLE WORKS. After the Goldhabers bought into the Pepsi Cola franchise in 1937, they tried to keep the tulip motif on the bottles, but Pepsi denied that request. As Pepsi became popular, demand soared and two adjoining buildings were added to the complex: the Goenner Brewery and the stable. Finally, the Pepsi plant built a plant in Richland and the original Tulip Bottling Company was bought by the Hornick family.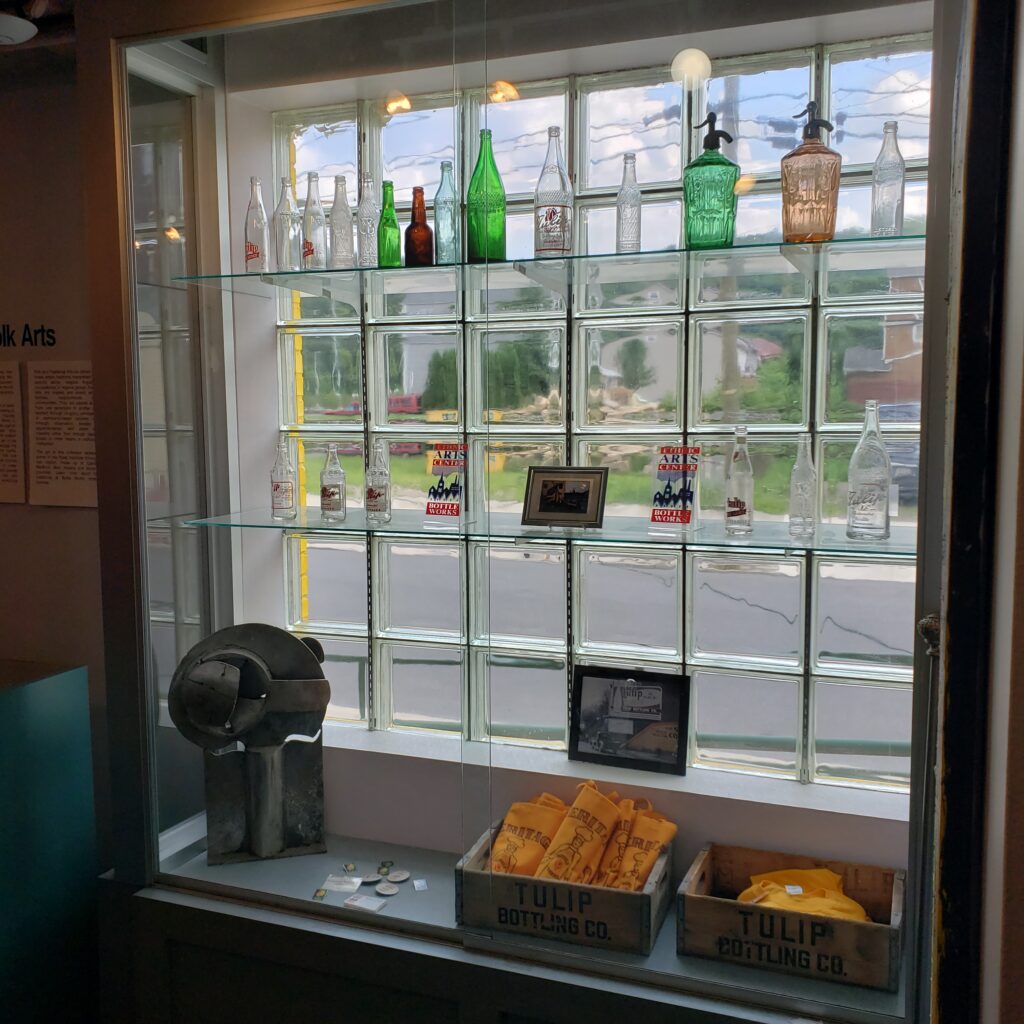 ART WORKS
In 1993, the building was purchased by an organization devoted to celebrating the cultural diversity of the peoples of this region through their Arts. That organization became the BOTTLE WORKS Ethnic Arts Center. Through the building was remodeled into an arts center, the tulip reference remains alive.
In 2001, the BOTTLE WORKS Ethnic Art Center looked to expand and shepherded the stable building next to it which was also apart of the Pepsi Cola story. The new facility ART WORKS in Johnstown! brought another dimension to Cambria City-with studios, huge exhibit spaces, and a renovated green roof. The two separate facilities merged in January 2014 and are now known as the BOTTLE WORKS campus for the arts.