---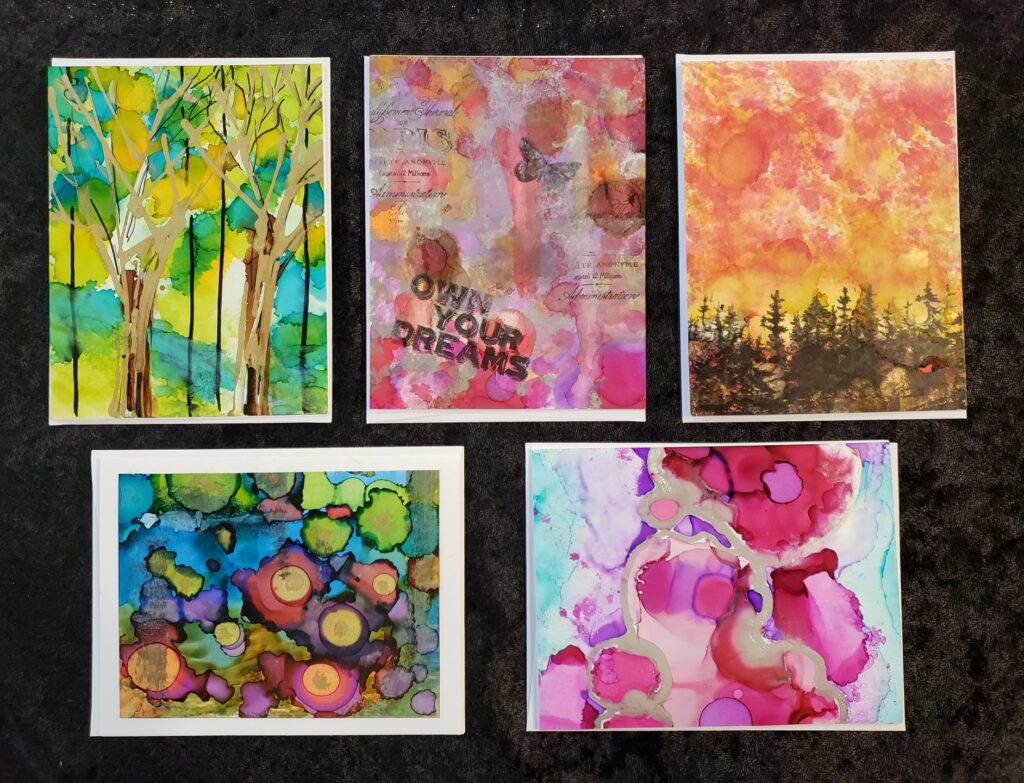 Alcohol Ink Cardmaking Workshop
Sept 10, 2022 from 10 AM – 12 PM
Learn to make your own alcohol ink cards!
Join Bottle Works Studio Artist Jaime Helbig for an Alcohol Ink Card Making Workshop.
Jaime will guide you through the process of creating your own, one-of-a-kind, birthday, holiday, get well, thank you, or any occasion cards. All supplies are included, and you will leave the workshop with four, ready to mail, handmade cards.
Ages 12 + Non-Member $25 BW Member $20
---
Join fiber artist Miranda Fasnacht in a two week long introductory class on traditional fiber art techniques; specifically, students will learn how to spin their own yarn on a drop spindle in the first class and spend the second class using their hand spun yarn to practice basic knit work by constructing a hot pad. This is a fantastic class for beginners and advanced students alike to gain an appreciation for historic practices. All supplies included.
Age Range: 12+ (minors should be accompanied by a parent)
Dates: August 17th and August 24th
6-8 pm
Non Member: $50
Member: $45
Supplies included
---
Paper Mache with Colleen Albright
Fridays August 26 – Sept 16 from 6-8 PM
Paper Mache with Colleen Albright
Bottle Works is proud to present a course on paper mache sculpture with our exhibiting studio artist Colleen Albright. Colleen will lead students through constructing a paper mache form and discuss abstraction and representation in sculptural work. The class covers armature construction, paste recipes, application techniques, and ways to finish paper sculptural forms. All skill levels are welcome.
18+
All supplies included.
$45 for non-members
$40 for BW Members
---
Crochet for the Holidays: Hat with Pom
September 3, 10, 17, & 24 from 1-3 PM
Crochet for the Holidays: Hats with a Pom
Bottle Works' regional folk artist Rayna Noel (of Simple Stitch by Rayna) is back again this fall with a project in perfect time for the shifting weather. As days grow shorter and nights grow longer, why not prep for the coming cold by making yourself or a loved one a comfy, cozy hat? Rayna will walk students through the process, following the pattern of stitches to construct a sturdy and fashionable hat with a pom at the top. A great follow up to Rayna's introductory crochet classes, or for those who want to get back into crochet after a break! All supplies included. 8 hours of instruction time.
All ages welcome. Minors must be accompanied by a guardian.

Non-Members: $70
Members: $65
---
Basics of Zentangle
Wednesdays Sept 7-28 from 6-8 PM
Join certified Zentangle instructor Gloria Vatavuk for Basics of Zentangle!
Gloria will walk you through the basics of creating your own Zentangle masterpiece using a kit straight from Zentangle.
Wednesday Nights in September 6-8 pm (7, 14, 21, 28) All Supplies included.
Non-Member $70
BW Member $65
---
Jackie's Garden Works Paint Party
w/ Alan Rauch
September 10 from 3-5 PM
A Fun Paint Party for people who have never painted before! · The price is just $45 per person ($40 for Bottle Works members). This fee includes a canvas and use of brushes, acrylic paints, easel plus two hours of instruction by our expert professional instructor Alan Rauch. How is this Paint Party different? · Hands-on instruction with Alan Rauch, who personally helps each individual registrant, one-on-one. · Each student can choose from a selection of subjects. · Alan is a professional painting instructor, who presently delivers a 6-week program at Bottle Works and has taught at Penn Highlands Community College, Laurel Arts, Community Arts Center and others. · Alan will guide you stroke by stroke through the creation of your very own masterpiece. You will be amazed at your work of art. At the end of the event, you will leave with a wonderful sense of accomplishment and a beautiful, original painting ready to hang on your wall. Reservations and full payment are required 5 days prior to event. No cancellation refund after 4 days prior to event. Event Date: September 10th. 3-5pm. Seating is limited.
---
Pour Painting with Fluid Flourish:
An Acrylic Workshop
Saturday September 24 from 9 AM – Noon
Pour Painting with Fluid Flourish: An Acrylic Workshop Just like the Conemaugh River, these paints flow! If you've ever wanted to experiment with fluid acrylic, be it with paint pouring or other quirky tricks, Bottle Works has the class for you! Local artist and Bottle Works cornerstone Sandy Vigna will lend students her advice and years of experience as they create a one session fluid acrylic painting. A great weekend activity to get your creative juices flowing, just like the paint! All supplies included.
All Ages Welcome.
Minors should be accompanied by a parent or guardian.
$45 or $40 for BW Members
---
A Fall Themed Candle workshop featuring all things pumpkin, apple, and autumn!
Non-Member $35
BW Member $30
What's included in the workshop?
Guided instruction by an experienced candle maker on candle making, candle care and fragrance blending.
Hands on candle making instructions
Door Prizes/Giveaways
BYOB for those over 21
Light Snacks and Water will be provided by host
One completely customized 16 oz. candle
Your choice of fragrance or a fragrance blend
Your choice of label (I will bring a variety of different labels that you can choose from. You can make it funny, make it cute, calming or simply put the scent).
About the Host
Hey all!
My name is Elise Moore and I am the owner of Live Inspired Apparel & Candle Company based out of Johnstown, PA. I am SUPER excited to show you all how easy making amazing candles and melts can be. My love of making candles actually started as a COVID Quarantine project back in the spring of 2020 and has grown exponentially since then. There is something so soothing about making and pouring your candles that I can't wait to share with you all!
The really cool part of what I have learned over the past two years is that you can actually make candles healthy! (at least that's what I like to call it). All of our candles and melts are made from 100% Soy Wax that is produced right here in the United States. When it comes to scents, they are what is considered "Clean Scents." These scents are FREE of phthalates, carcinogens, mutagens, reproductive toxins, organ toxins and acute toxins. All of this crap is what you would find in a Yankee Candle or Bath and Body (seriously, it's gross). I will show you how to make these CLEAN AND HEALTHY FOR YOUR HOME!
Super excited to meet you all and can't wait to share my passion with you! Bring some friends, a drink and let's have some fun making smelly goods!
---
Life Figure Drawing Workshop with Kyle
Live Model Figure Drawing Workshop with Kyle
Draw from life in our Life Figure Drawing Workshop with artist Kyle Reidmiller!
The 4th Saturday of each month from 1-3:30 PM
Kyle will teach you the process of drawing the human figure. Students will learn the basics of working on a figurative drawing from life, a draped/partially clothed, or nude model. Gesture drawing, simplified shapes and forms, and contour drawing will be discussed; all methods to measure and proportion to achieve outstanding observational drawings. This workshop is intended to teach the basics, but all levels of experience are welcome. Those with experience can use the workshop as live model time.
Cost: $15 per session or $10 per session for BW Members.
Register for All 12 sessions in 2022 for a big discount!
You must be 18 years old to register or be registered and accompanied by a parent/guardian.
About the instructor/moderator:
Kyle Reidmiller is a figurative painter based in Western PA. He received his BFA in Studio Arts-Drawing from IUP in 2016 and his MFA Painting from Edinboro in 2019. As an emerging artist, his practice revolves around drawing and painting people; he has led classes and workshops on portraiture and figure drawing for the last four years.
Supplies:
Your supplies are up to you! A sketch pad and pencil are recommended for starters, but you can feel free to work in your preferred medium. (Charcoal, pastel, graphite, paint…etc.)
---
Learning Impressionism Painting Class with Alan Rauch
Thursdays from 6-8 PM
Painting experience is not required. Classes are ongoing, so you can ask to begin at any time! Make up classes are available.
• Materials list will be given at registration.
• Instructor Alan Rauch will introduce students to the fundamentals of Impressionism.
• You will learn how to mix colors, brushing techniques and composition. Alan will give students individual attention using demonstrations throughout the course. The main emphasis of the course will be to have fun while learning to paint.
• And to encourage and nourish individuality and creativity.
• The series of classes (6 weeks) cost $85 for BW Members, $90 for Non-Members
Supply List:
Pack of assorted bristle brushes
Pack of 1″ to 2″ wide brushes
Table Easel
4 canvases (16″ x 20″)
Water container-plastic
Pack of paper plates/pallette
4 oz tubes of acrylic paint, 2 shades of red, 2 shades of blue, 2 shades of yellow, 2 shades of green, titanium white, & black

• To register simply call Bottle Works…814-535-2020 or
Bio: Alan Rauch, artist/instructor.
Alan was educated at Cooper Union School of Fine Art in New York City. He began his career as an advertising Art Director. After retiring from advertising, he began his new career as an impressionist painter. Alan's paintings soon became recognized by the art world. His award-winning work has been collected by art lovers around the world, and Alan has been sharing his talents with students like yourself as a painting instructor for over 20 years.
---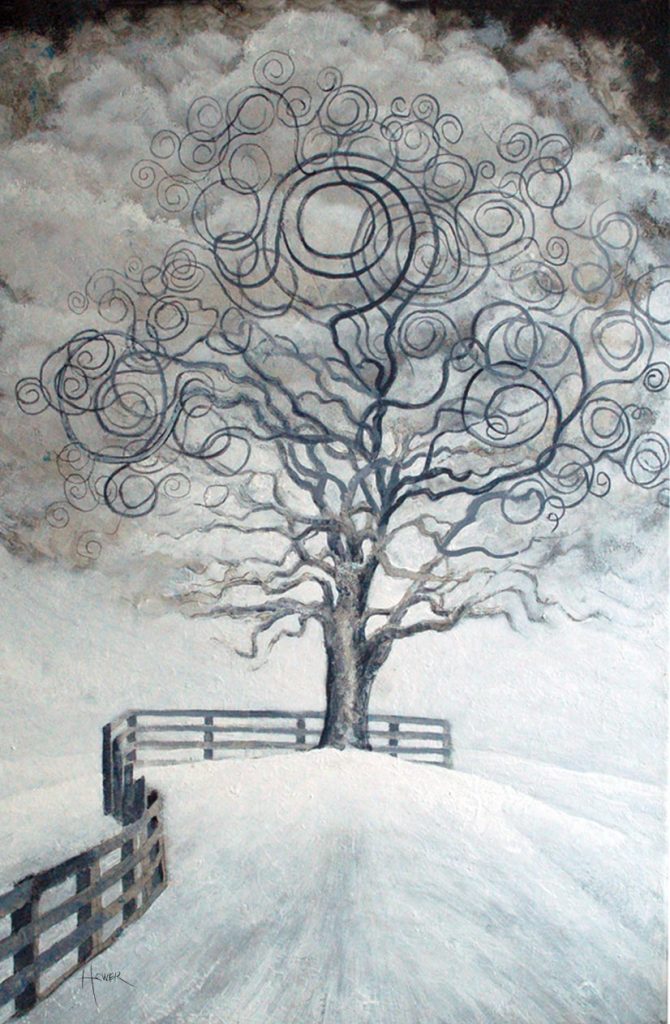 Acrylic Painting with Richard Hower
Acrylic Painting Class
with Richard Hower
in the AmeriServ Learning Center
Wednesdays from 6:30 – 9 PM
Stay tuned for new dates soon!
Class Age Range: AdultsAll Levels
Cost: $90 for 6-week session; BW Members $85 for 6-week session
$20 per drop in session; BW Members $15 per drop in session
Discover the joy of acrylic painting on Wednesdays with Richard Hower. Richard's class is perfect for beginners as well as more experience artists who are seeking to advance their skills and techniques.
You are welcome to work at your own pace given your own skill level and need. You will explore drawing techniques, color composition, color theory and much more! Bring in a picture or let your imagination be your inspiration!

Supplies are not included. Please bring the following items to class:
Easel
Canvas
Water container
Paper plates
Acrylic paint
Blue
Red
Yellow
Black
White
Call 814.535.2020 to register securely over the phone. Payment is due with reservation. Drop in sessions are also available.
---
Please note that the Bottle Works engages in photography and recording of programs and events for its own print and online publication/promotional purposes. Staff and volunteers will make every effort to notify members of the public when filming and/or photography is taking place. Please notify a staff member/volunteer if you do not want to be photographed or filmed.