---
November 27 – December 24
Our annual Merry Maker's Mart Artisan Market will be in full swing throughout the month of December!Visit the Bottle Works for all of your holiday gift giving needs.
Art vendors include Artist's Signature by Jaime Helbig, Matt Lamb Art, Laurel Highlands Alpaca, S & J Custom Designs, Bead Chics (JaRe Designs & Clementine), Dan Eash Pottery, Sheepskin Shop, & Coastal Inspired Glass by Ken Robb!
The Gallery Shoppe is also fully stocked with wearable, displayable, and functional art from over 60 local/regional artists.
---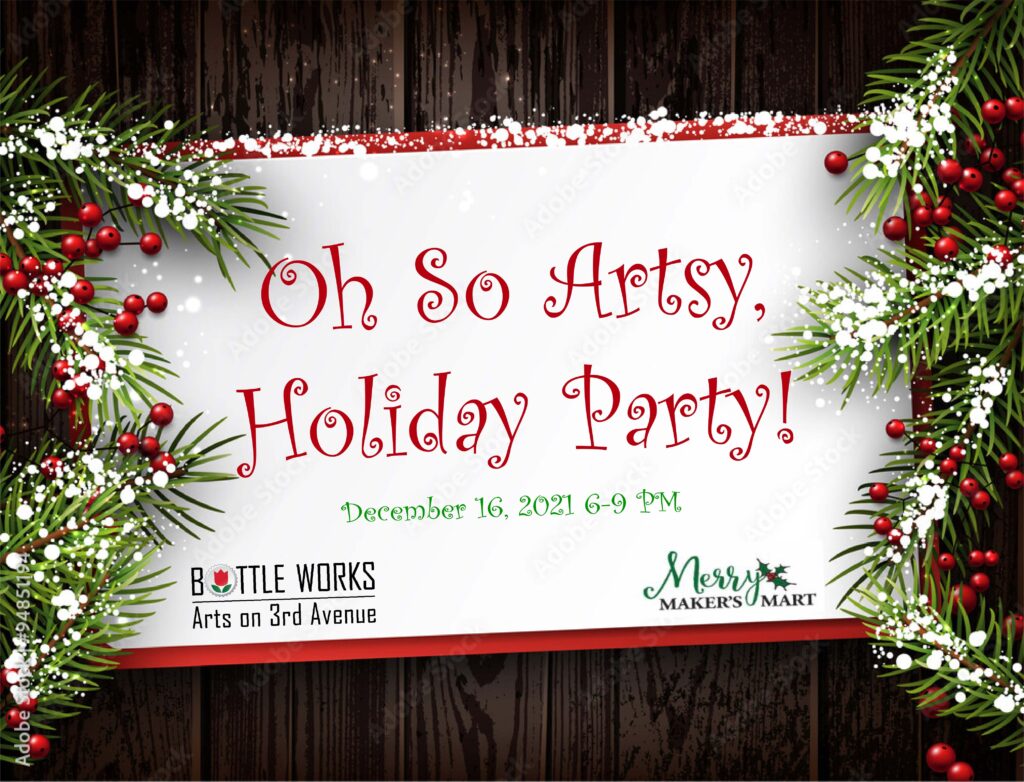 Break out your ugly sweaters and join us on December 16, 2021 from 6-9 PM for the Bottle Works' Oh So Artsy Holiday Party!
For this 3rd Thursday on 3rd Avenue Gallery Night, guests can enjoy three great exhibits, shop unique artisan goods at our annual Merry Maker's Mart & Gallery Shoppe, and make hand-crafted gifts for the family.
Hey Kids, create the perfect gift for your loved ones as Ms. Holly and the BW Teen Apprentices turn an Artworks' Studio into Santa's Workshop. Holiday art projects and crafts included:
card design station
holiday-themed painting projects
Tree ornament making and more!
Light refreshments, hot chocolate, and holiday themed treat bags for the kids.
You can "wrap up" your holiday shopping with a unique collection of artisan gifts from our Gallery Shoppe, The Merry Maker's Mart, the Small Works Exhibit, and Roots Reflections and the Pitcher Project by Dan Eash. We have something for everyone on your list!
To attend, a suggested donation of $5 is appreciated
---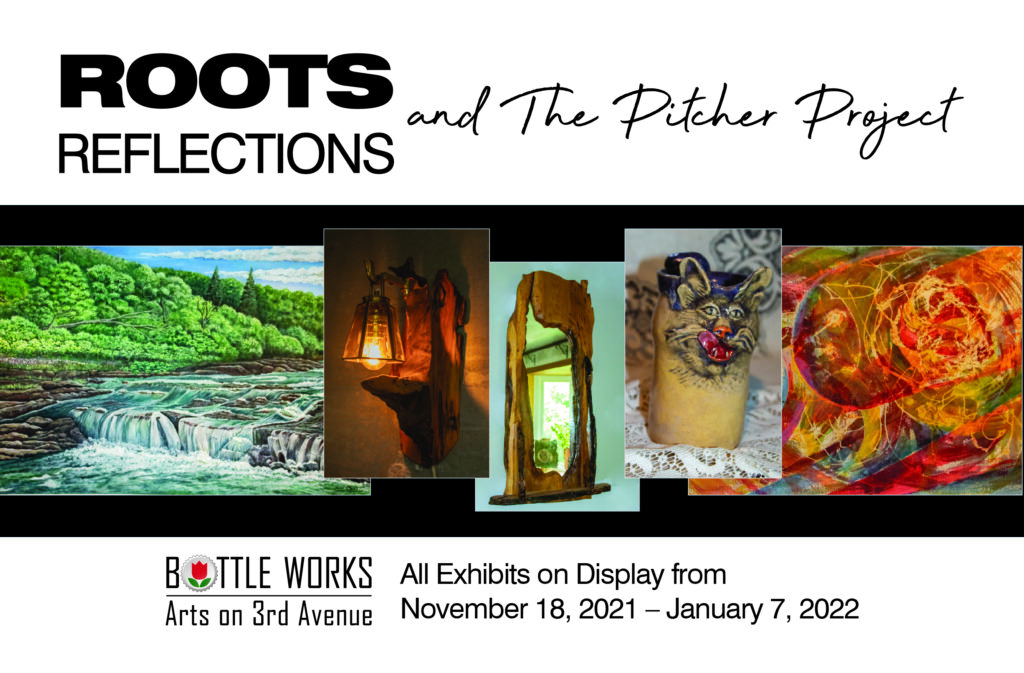 Art Talk and Q & A with Dan Eash
Due to popular demand, we are adding an art talk with artist Dan Eash on his Roots, Reflections, and the Pitcher Project Exhibit!
Join us on December 17 at 7:15 PM as Dan walks us through his process and the inspirations behind his exhibit. The art talk is taking place in between Sam Coco and The Evergreens performances at our Folk Arts "Creatively Inspired" Holiday Concert.
There is no charge to attend Dan's talk, but we recommend joining us for the concert as well. Our Merry Maker's Mart will also be in full swing, and open for business during the concert and art talk.
---
Find your artistic inspiration in the holiday sounds of Sam Coco & The Evergreens!
For generations artists have been inspired by the melodies of their favorite musicians. You are invited to bring your art supplies to paint, sculpt, craft, paper cut, or quilt while enjoying the holiday tunes of a few of our favorite local folk musicians. Several of our studio and folk artists will create alongside our musical acts to show you first hand how the music inspires.
If creating art to music is not your skill, you can simply come to watch and enjoy what our artists and attendees create while the musicians share their gifts of music. This is a family friendly event for all ages. From 6 PM – 8 PM, young creatives can join this yule-tide celebration and make a few artsy projects with our Teen Apprentices and Education Team. Youth activities are free with a paying adult.
The Folk Arts "Creatively Inspired" Holiday Concert is a BYOB event; light refreshments will be provided.
Admission for creatives or music-listeners is $15 for non-members and $12 for BW Members. Attendees 16 and under are free to attend and/or to create.
As always, our Gallery Shoppe will be fully stocked with unique artisan goods to satisfy your gift giving needs. In addition, the BW Merry Maker's Mart will be in full swing, and the Roots, Reflections, and the Pitcher Project, an exhibition by Dan Eash and Small Works Exhibit will be available for your viewing and purchasing pleasure. 
Space is limited. Tickets can be purchased online and on the day of the event pending availability. For more information, please call 814.535.2020.
---
Please note that the Bottle Works engages in photography and recording of programs and events for its own print and online publication/promotional purposes. Staff and volunteers will make every effort to notify members of the public when filming and/or photography is taking place. Please notify a staff member/volunteer if you do not want to be photographed or filmed.