---
Camp BW: Ages 7-12
Explore the world through art, music, dance, science, history, mindfulness, and more all summer long during Camp BW! Each week campers will participate in themed camps with the Bottle Works education team and Teen Helpers. Camps are paired with adventurous field trips and/ or exciting guest visitors. Camp BW is sure to thrill! Camp Instructions are professional artists and certified teachers with childcare clearances.
Camp BW Week 1: June 26 – June 30
Oh So Magical: Mystical Creatures & Fantasy Lands!
Monday- Friday 9:00 AM – 3:00 PM
Using the power of your imagination, unlock the fantasy realm to run wild with mystical creatures and explore distant lands with watercolor world maps of your creations. During this week of camp, participants will design dragon eyes and magical wands from air dry clay, colorful oven-baked clay, and crystal stones that will help you harness your creative powers. To help you discover the worlds beyond, you will create your own sidekick creature to wear on your shoulder. No excursion is complete without fun water games and friendly competitions on the First National Bank Pop Plaza. Games include the unstoppable bubble challenge and disappearing goldfish! Prepare for one unbelievable adventure.
Field Trip: On June 28, for the first time ever we are traveling to Lincoln Cavern in Hunting PA for an epic adventure! Campers will transform into pirates for the day as a treasure map leads us through the caves to buried treasure! We'll also pan for gems in the cavern's sluice!
For this field trip only: There is a $25 field trip extra fee (due on day one of camp) to account for the extra cost of the cavern adventure. Camp will also extend until 3:30pm on this day only so we can fit all the cave adventures.
---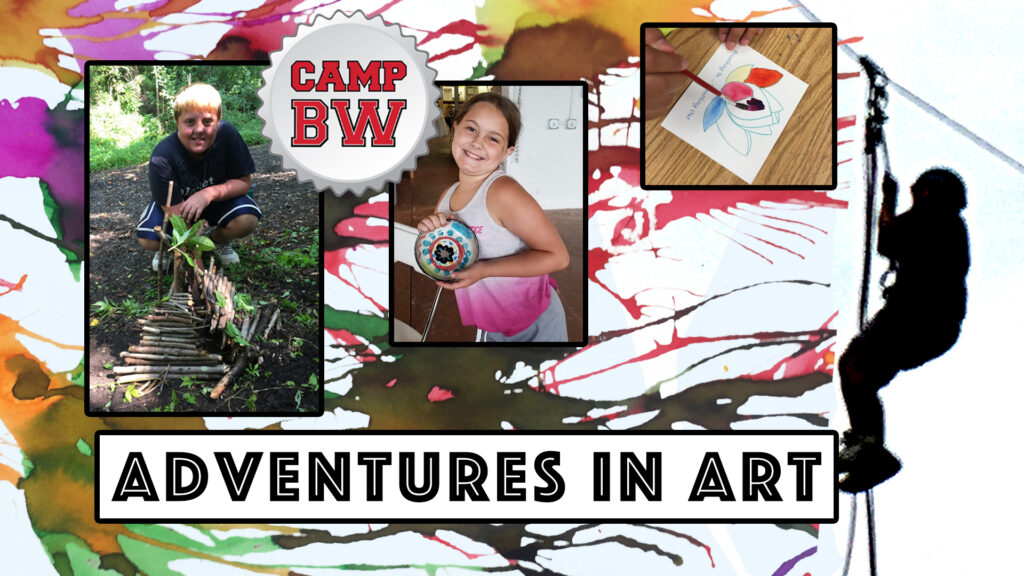 Camp BW Week 2: July 10-14
Adventures in Art
Monday- Friday 9:00 AM – 3:00 PM
Field trip: Wednesday, July 12
Let's get adventurous! This is a camp of highflying adventure and unmatched creative wonders! Campers will start each day with mindfulness lessons that encourage kindness, courage, and caring. We'll gain new perspectives and learn about how artists tell stories and express their emotions through art. Campers will also make clay creations, glaze their own pottery, make dot art on vases, create breathing buddies, and more. We will offer new projects and activities for this camp. Past campers are welcome to attend for a new experience!
Field trip: Outdoor Odyssey
Wednesday, July 12 – time to be determined
*Additional field trip permission form is required from Outdoor Odyssey
On field trip day, undergo high-flying experiences at Outdoor Odyssey. Go rock climbing, zip-lining, and so much more.
---
Camp BW Week 3: July 17-21
Art of Animation
Monday- Friday 9:00 AM – 3:00 PM
Field trip: Wednesday, July 26 8:00 AM- 5:00 PM
Animation brings us hours of entertainment through lovable characters, captivating stories, and catchy musical tunes. Aspiring animators will push their imagination into a new realm of creativity as they learn how to draw some of our favorite characters from animated films and more! Campers will develop their own animated character, explore color, and create storyboards. We will also explore anime and manga and learn to draw in this style. We will have fun creating edible treats and playing games inspired by our favorite animated films. This camp theme is not new to Camp BW but the projects and activities will be!
Field trip: Richland Cinemas
Wednesday, July 19
Campers, are you ready for popcorn and a movie? On field trip day, we will visit the Richland Cinemas to get a behind-the-scenes tour of the facility and learn how movies are transmitted and projected, and watch an animated film.
---
Camp BW Week 4: July 24-28
Architecture, Drawing, & Sculpture
Monday- Friday 9:00 AM – 3:00 PM
Field Trip Day: Wednesday, July 19
Be inspired by our area's architecture & design. Campers will explore the amazing designs of Patrick J. and Patrick S. Ditko, in a father and son showcase in the Art Works Main Galleries. We learn all about drawing in perspective drawing. Students will draw cubes and other 3D shapes with 3D pens. Build your own buildings and streetscapes with legos, blocks, and other materials. Point out all the various historical design styles during a fun walking tour of Cambria City.
Field trip: TBA
Wednesday, July 26
---
Camp BW – Week 5: July 31- Aug 4
Creative Movement & World Dance
Monday- Friday 9:00 AM – 3:00 PM
Get ready to move your feet and dance around the world during our all-new creative moment camp. For many groups of people, dance and movement is more than artistic expression. It can be an expression of heritage, depict what is happening in our society and pop culture and so much more. Explore all forms of movement with instructors Gwen Msolomba and Holly Lees. In Lieu of a field trip: we will welcome our special guest to teach us dance forms from their cultures. At the close of camp, we will showcase the skills and talents learned in a performance!
---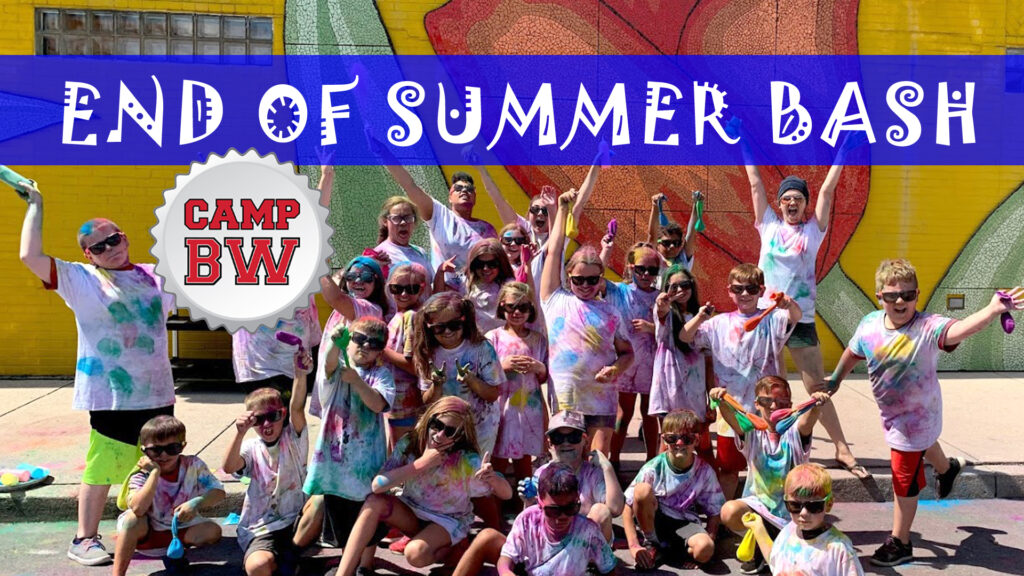 Camp BW Week 6: August 7 – 11
End of Summer Bash
Monday- Friday 9:00 AM – 3:00 PM
Field Trip: Wednesday, Aug 9
Back by popular demand, we are ending the summer season with a BANG! End of Summer Bash is a fun, highly-anticipated camp that allows campers to create wildly all week long. We will create unique art using fun and splashy techniques inspired by Jackson Pollock and other abstract artists. We will create paper mache masks, experiment with printmaking, and stamping, and make mosaics. Cool indoor/outdoor games and activities are in store, like our wicked water balloon fight! To end the camp is the return of our famous color battle royale in the FNB Pop Plaza.
Field trip: Camp Sequanota
Wednesday, Aug 9
Get your swimsuits and trunks as we head to Camp Sequanota in Jennerstown, PA, for a summer camp PARTY! Campers will play games and swim in the camp's pool, weather permitting.
---
Workshops for Teens and Adults
Mega Masters Art: July 31 – August 4
For ages 13+
Monday- Friday 9:00 AM – 3:00 PM
Instructor: Joanne Mekis
Learn and view art from the past and present as you delve into the history of various art periods and the famous artists for which they are known.
Teens and adults will create unique art projects based on the techniques and styles of master artists. The group will explore Expressionism, Impressionism, Naïve art,Pop/Op Art, and more. Students can anticipate developing attention to detail in their work by sketching en plein air in the neighborhood and our Green Roof. The camp will feature lessons on painting, drawing, pen and ink, among other disciplines. A very popular camp, Mega-Masters is in its seventh year and better than ever with all new artists and projects!
Camp BW & Workshop Pricing:
Payment is due upon registration.
Early bird discount when you sign up & pay before June 1:
$145 Non-Members; $140 BW Members
Registration Pricing when you sign up & pay after June 1
$155 Non-members; $150 Members
Receive the Bottle Works' Junior Artist Discount by signing up for four or more weeks of camp.
When you enroll in four or more weeks of camp, you'll pay a special price for each week of camp and be considered a Bottle Works Junior Artist. Junior Artists will receive major artists' perks including a swag bag with a t-shirt and other fun items.
Bottle Works Junior Artist Regular Prices per week:
Early Bird Discounts per week pricing:
$135 Non-members, $130 Members. Contact the Bottle Works to register with this special Junior Artist pricing.
Pricing after June 1
$145 Non-members
$140 BW Members
Payment is due when registering for camp. Contact Holly Lees at hlees@bottleworks or 814.535.2020 for more information. Payment plans are available to anyone signing up for four or more weeks of camp.
SCHOLARSHIPS
A limited number of scholarships are available. Scholarships are based on declared financial need and interest. Scholarships will be distributed on a first come, first-served basis. Scholarships will be awarded on a rolling basis. In order to extend funds to as many students as we can, we prefer to offer partial scholarships based on your declared need. We receive many scholarship requests and try to meet every request whenever possible, but scholarship funds are limited.
There will be no before and after care available, this summer for programming at Bottle Works
Teen Apprentices
Bottle Works is seeking a team of teen-aged apprentices to help out with youth summer camps, workshops, summer festivals, events, art openings, and other Bottle Works fun!
Who should apply?
The Bottle Works Teen Apprenticeship Program is for youth ages 13-19 who are interested in the arts, working with youth, and making a difference in the community.
If you are accepted into the youth apprenticeship program, you'll get to work with fun artists and educators as you help the students with the projects and assist the teachers with preparation. You'll also get to attend field trips and explore your own art skills. You could also help Bottle Works during one of our summer festivals, events, public art projects, and/or art openings.
Why become a Teen Apprentice?
You'll make exciting connections within the art community, meet new friends and learn valuable job skills. You can count time at Bottle Works as service hours and use this experience on your resume. There is potential to earn fun Bottle Works swag like t-shirts and bags for committed apprentices.
When?
We are seeking apprentices throughout the summer and school year. You can check on your application which dates you are available and would like to serve. There will also be an introduction party/ training for apprentices June 8, 2023.
How to apply?
Meet the Camp BW Staff:
Holly Lees:
Holly Lees is the Youth Program Coordinator and Mindfulness & Arts Facilitator for Bottle Works Arts on Third. Holly facilitates the Bottle Works' M.I.N.D. Works Program in local classrooms, after-school programs, and at Bottle Works.. She is a Mindful Schools Certified Instructor and completed the school-wide mindfulness implementation program with Mindful Schools. Holly received a Bachelor of Fine Arts with a concentration in photography from Point Park University. Holly grew up and currently lives in Johnstown, PA. She cares deeply about the community and the future of Johnstown. She has been working at summer camps and after-school programs since she was a child herself. She has been working with Camp BW since 2013. She enjoys working with the Bottle Works team to create unique learning experiences in which young people can grow their social and emotional skills and discover the power of their own creativity and intelligence.
Laura Troy:
Hi, my name is Laura Troy and I am thrilled to return as a third-year instructor for summer BW camps. BottleWorks has also provided me with the opportunity to work collaboratively with them to provide more art experiences for the students of Conemaugh Valley Elementary School. My full-time position is as CVES Elementary Art Teacher, art camp advisor, and student council co-advisor. I have a Bachelor's Degree in Art Education (K-12) and a Master's in Reading Specialist with an Emphasis on Elementary Standards. I am a single mother of four with a passion for the arts and working with students. My favorite mediums are colored pencils and watercolor as I love to experiment, blend and push my creativity when I find the time. I have been blessed to "work" a summer job that allows me to share my passion, make lasting FUN memories, and include my own children as campers and apprentices. I live a colorful life enjoying all the moments, sharing smiles, and dancing in the rain.
Shannon Stephens:
My name is Shannon Stephens and I was born and raised here in Johnstown into a creative family. My father makes items out of wood such as bowls, pens, and furniture. My mom's main media of choice is quilting but has dabbled in all sorts of projects over the years. I love to do anything at all with my hands. I make t-shirts, jewelry, and bows to sell with my father which you can find here at the Bottleworks. I have recently taken up crocheting. I work at Greater Johnstown School District and teach 3rd grade. I love working at the Bottleworks in the summer! I enjoy meeting kiddos from across the area and sharing my passion for art with them.
Gwendolyn Msolomba:
I am a pre-K teacher at Morrell Neighborhood School. I have my masters degree in early childhood education. I have taught creative movement and world dance at St Francis University for the last 3 years. I love the freedom you get when it comes to doing anything in the arts. I like helping young people become well round in the arts. I have been teaching and dancing West African dance for the last 10 years, which included a trip to Africa to learn authentic drumming and dancing. One of my favorite parts about Camp BW is getting to help students grow and explore their passion for art and all that goes with being a festive mind.