---
Spend your Summer on Third Avenue!
Camp BW: Ages 7-12
Join us for Camp BW! Participants can engage in a series of fun art camps that explore the world through art, music, dance, science, history, mindfulness and more. Camps are paired with adventurous field trips, pending COVID-19 guidelines and restrictions, and exciting guest visitors. Camp BW is sure to thrill!
Camp Instructions are professional artists and educators with childcare clearances.
Camp BW – Week 1: June 27-July 1
Adventures in Art
Monday- Friday 9:00 AM – 3:00 PM
Field Trip Day: Wednesday, June 29
Instructor: Holly Lees, Shannon Stephens
Let's get adventurous! Campers will start each day with mindfulness lessons that encourage kindness and caring. We'll gain new perspectives and learn about how artists tell stories and express their emotions through art. Campers will also make clay creations, glaze their own pottery, and build nature sculptures. Holly will offer new projects and activities for this camp. Past campers are welcome to attend for a new experience!
During field trip day (Wednesday, June 29), undergo high-flying experiences at Outdoor Odyssey. Go rock climbing, zip lining, and so much more.
Field trip: Outdoor Odyssey: Wednesday, June 29 – chartered school bus
*Additional field trip permission form is required from Outdoor Odyssey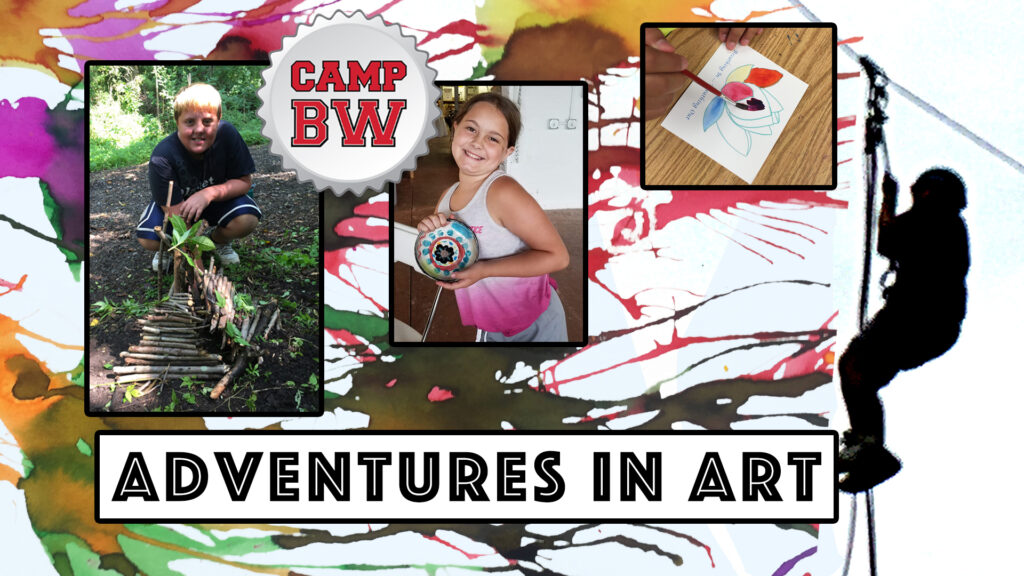 ---
Camp BW – Week 2: July 11-15
H2Ohhh!
Exploring the Wonders of Water
Monday- Friday 9:00 AM – 3:00 PM
Field Trip Day: Wednesday, July 13
Instructors: Holly Lees , Laura Troy
Beyond the Earth's hardened surface is a magical water world that hosts thousands of living creatures and organisms. During this week of camp, we will take a deep dive into this wet mass to learn about various bodies of water (which cover more than 70% of our planet) and more! Campers will learn about the water cycle, ecosystems, and how important water is to all living things. Make an artistic splash during various art projects including self-blooming lilies and frozen water art pieces. We will spend a day "under the sea" to make bubble paintings and mold fish using air-dry clay. Cool down with fun water games at the FNB Pop Plaza's Lawn.
Field trip: Pack up your gear and together we will go on a trip to Greenhouse Park. We will explore the Stonycreek River and go on a photography safari. We will even throw a cool picnic at the site. Campers are encouraged to log their Greenhouse discoveries in artist water journals.
---
Camp BW – Week 3: July 18-22
Building The Molok: Sculpture, Installation, and Performance
Monday- Friday 9:00 AM – 3:00 PM
Instructors: Holly Lees, Shannon Stepphens, Erica Quinn of 3 Dots Downtown, and New York Artist
In the shadows is a mythical being that is created from all of your unwanted goods and discarded objects. It's name is The Molok. During this week, campers will have the unique opportunity to work alongside 3 Dots Downtown (of State College, PA) Director Erica Quinn and other artists from New York City to build this community-based installation in the ArtWorks' Main Galleries. When creating this 13-foot live action puppet, campers will explore several art disciplines such as artistic visioning, sculpture building, puppeteering, and performance art! Not only will campers help install The Molok in the gallery space, but they will create a bottle cap cape that will be a permanent piece of the Molok that will travel with representing the Bottle Works and the Johnstown. Additionally, campers will create their own sculpture/ puppet from a mountain of K'next building materials. For students that have an interest in performance art, will have a chance to create a piece that will be performed during Bottle Works' Summer festivals.
In Lieu of a field trip, Students will spend their time assembling The Molok with Erica Quinn and the New York City Artists.
---
Camp BW – Week 4: July 25-29
Art of Animation
Monday- Friday 9:00 AM – 3:00 PM
Field Trip Day: Wednesday, July 27
Instructors: Holly Lees & Laura Troy
Animation brings us hours of entertainment through lovable characters, captivating stories, and catchy musical tunes. Students will learn about the history and the progression of animation. Aspiring animators will push their imagination into a new realm of creativity as they learn how to draw some of our favorite characters from animated films and more! Campers will develop their own animated characters, create storyboards, and make a thaumatrope (a hand-held illustration sequence, and when flipped rapidly, it creates a visual impression). As a special treat via the power of Zoom, campers will meet professional animator James Elston. James has illustrated for mainstream companies such as Walt Disney, DreamWorks. Big Idea Entertainment and Netflix. You can see James' artistry in Mulan, Lilo and Stitch, and the VeggieTales in the house series on Netflix. James will guide students in character development.
Field Trip Day: Campers, are you ready for popcorn and a movie? On field trip day, we will visit the Richland Cinemas to get a behind-the-scenes tour of the facility and learn how movies are transmitted and projected and watch an animated film.
---
Camp BW – Week 5: Aug 1-5
African, Drum, Dance, & Celebration
Monday- Friday 9:00 AM – 3:00 PM
Instructors: Kulani Members: Holly Lees, Gwen Msolomba,
It's an African adventure! Campers will immerse themselves in the rich history of drum, dance and the songs of Africa. Experience African culture through food, arts, crafts, and stories! Campers will make their own African style fabric garment and jewelry, and more.
In this camp, we will create community and spread joy, learn new dances and drum rhythms, never before taught at our summer camps. At the end of camps, Students are welcome to join Kulani Kids Troupe and perform with the Adult West African Drum and Dance group, Kulani, during Ethnic Fest 2022.
In Lieu of a field trip: On Friday, the last day of camp, we will welcome our special guest" (what is the real name of the group) from Pittsburgh, PA. (Name of the Group) will teach us a fun dance and a drumming sequence during the day. At the close of camp, we will showcase the skills and talents learned in a joint performance!
---
Camp BW – Week 6: August 8 – 12, 9:00 AM – 3:00 PM
End of Summer Bash
Monday- Friday 9:00 AM – 3:00 PM
Field Trip Day: Wednesday, Aug 10
Instructors: Holly Lees, Laura Troy & Shannon Stephens
Back by popular demand, we are ending the summer season with a BANG! End of Summer Bash is a fun, highly-anticipated camp that allows campers to create wildly all week long. We will create unique art using fun and splashy techniques using our gigantic paint spinner. We will create a neon body paint dance party and make neon art; we will even paint with light. Cool indoor/outdoor games and activities are in store, like our wicked water balloon fight! To end the camp is the return of our famous color battle royale in the FNB Pop Plaza.
Field trip Day: Group your suits and swim trunks as we head to Camp Sequanota in Jennerstown, PA for a summer camp PARTY! Depending on weather, campers will play games and swim in the camp's pool.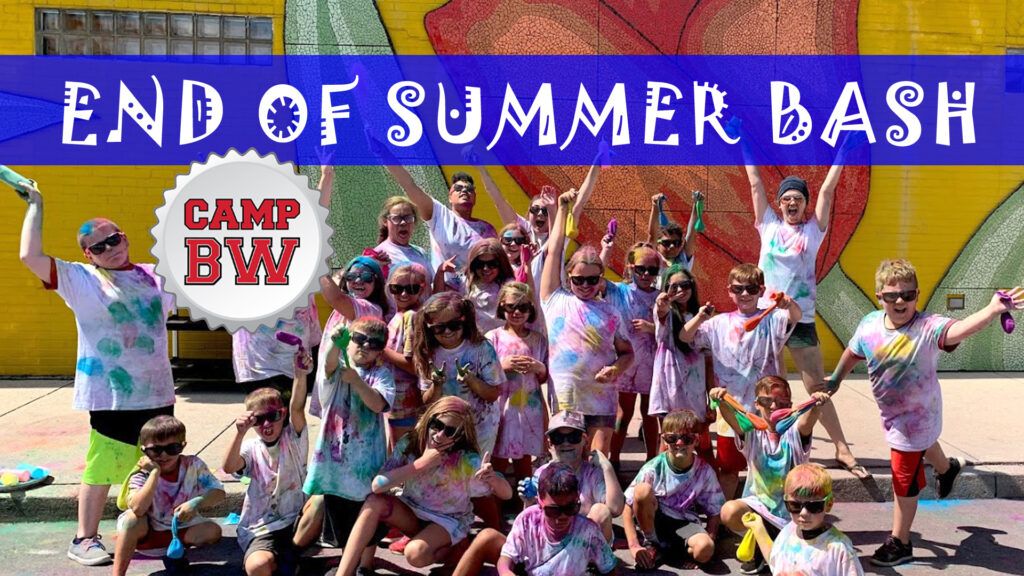 ---
Camp BW & Workshop Pricing:
Early Bird Pricing
$145 Non-Members
$140 BW Members
Registration and payment before May 11
Registration Pricing after May 11
$145 Non-members
$140 Members
Receive the Bottle Works' Junior Artist Discount by signing up for four or more weeks of camp.
When you enroll in four or more weeks of camp, you'll pay a special price for each week of camp and be considered a Bottle Works Junior Artist. Junior Artists will receive major artists' perks including a swag bag with a t-shirt and other fun items.
Bottle Works Junior Artist Regular Prices per week:
Early Bird Discounts per week pricing:
$135 Non-members, $130 Members. Contact the Bottle Works to register with this special Junior Artist pricing.
Pricing after May 11 for Junior Artist
$145 Non-members
$140 BW Members
Payment is due when registering for camp. Contact Holly Lees at hlees@bottleworks or 814.535.2020 for more information. Payment plans are available to anyone signing up for four or more weeks of camp.
SCHOLARSHIPS
A limited number of scholarships are available. Scholarships are based on declared financial need and interest. Scholarships will be distributed on a first come, first served basis. Scholarships will be awarded on a rolling basis. In order to extend funds to as many students as we can, we prefer to offer partial scholarships based on your declared need. We receive many scholarship requests, and try to meet every request whenever possible, but scholarship funds are limited. Click here to apply.
BEFORE & AFTER CARE
Before & after care is care available as early as 8:00 AM and as late as 4:30 PM – $5 per hour (discounts available for hours of more than 15 per week). *A schedule and payment must be submitted at least one week prior to the summer program to ensure that care is available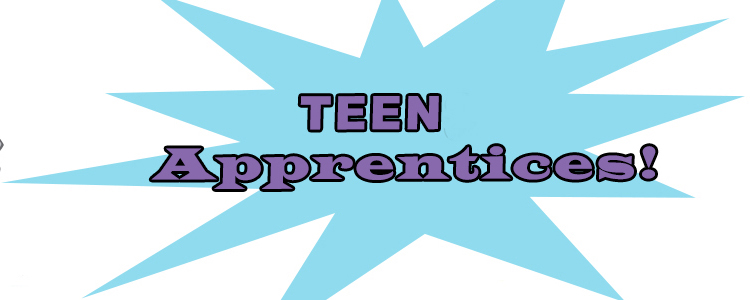 Teen Apprentices
Bottle Works is seeking a team of teen-aged apprentices to help out with youth summer camps, workshops, summer festivals, events, art openings, and other Bottle Works fun!
Who should apply?
The Bottle Works Teen Apprenticeship Program is for youth ages 13-19 who are interested in the arts, working with youth and making a difference in the community.
If you are accepted into the youth apprenticeship program, you'll get to work with fun artists and educators as you help the students with the projects and assist the teachers with preparation. You'll also get to attend the fieldtrips and explore your own art skills. You could also help Bottle Works during one of our summer festivals, events, public art projects, and/or art openings.
Why become a Teen Apprentice?
You'll make exciting connections within the art community, meet new friends and learn valuable job skills. You can count time at Bottle Works as service hours and use this experience on your resume. There is potential to earn fun Bottle Works swag like t-shirts and bags and a small financial compensation for committed apprentices.
When?
We are seeking apprentices throughout the summer and school year. You can check on your application which dates you are available and would like to serve. There will also be and introduction party/ training for apprentices in June.
How to apply?
Please, fill out this form to be considered as a teen apprentice.