The Bottle Works presents the Hometown Heroes-Steve Ditko exhibit! Located in the main Art Works Gallery, this retrospective exhibit of the legendary Steve Ditko's career, will contain original works, production art, prints, memorabilia, a living wall of Ditko inspiration, and a wall of Ditko's infamous fan mail responses. Accompanied by the Ditko Inspired Exhibit, and a host of other events and activities, this 8 week experience will be like nothing you have ever seen before!
---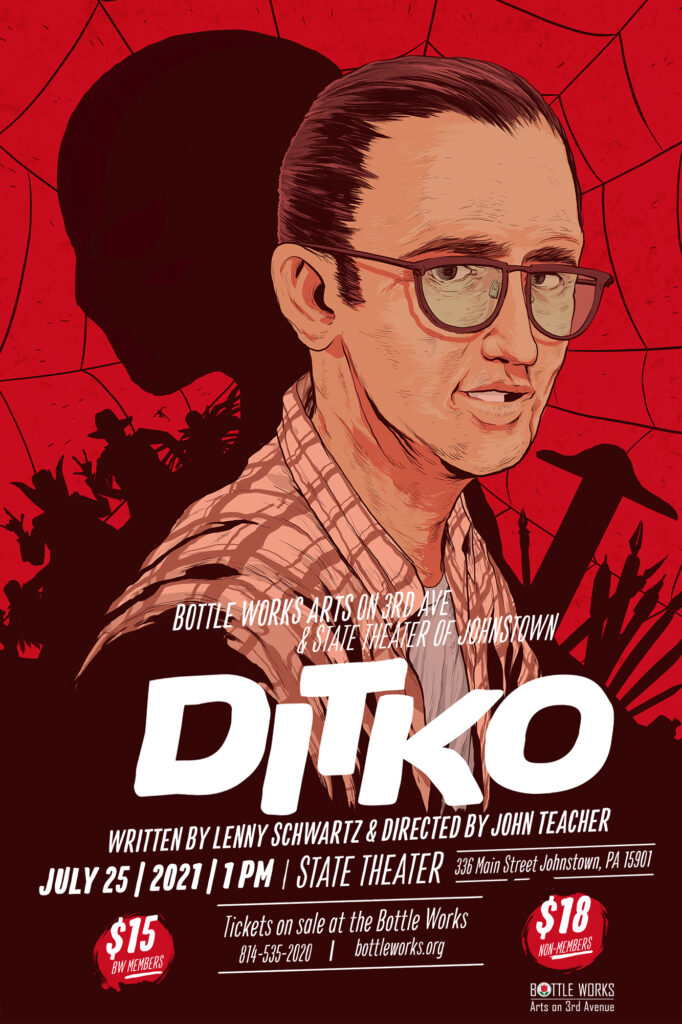 Bottle Works Arts on 3rd Avenue, UPJ Theatre, & The State Theater of Johnstown present
DITKO
a play written by Lenny Schwartz
The Hometown Heroes-Steve Ditko Exhibit was promised to be a once in a lifetime experience, and here is the next piece!
Join us for DITKO a play written by Lenny Schwartz! Only seen before in NYC, this dramatic interpretation of the life and career of iconic creator Steve Ditko, co-creator of Spider-Man, and creator of Doctor Strange, Mr. A, and countless other heroes and villains, is a walk through Mr. Ditko's adult life, career, and philosophy. This is a great opportunity to get to know the man behind the legends.
UPJ Theatre's own John Teacher will direct a cast of local performers in this riveting tale of the behind the scenes moments of Mr. Ditko's life. The premier performance will be held at the State Theater of Johnstown, as a first in what will hopefully be a long line of collaborations between our organizations.
July 25, @ 1PM at the State Theater of Johnstown.
Introduction by playwright Lenny Schwartz & Mark Ditko.
Tickets are $20 for Non-Members or $18 for BW Members.
Space is limited. Get your tickets today!