Current Exhibits
All Creatures Great and Small
Kim Williams
---
Due to the COVID 19 restrictions our annual Divinely Inspired Student Art Exhibit in collaboration with the Johnstown/Altoona Diocese was unable to move forward. That, however, didn't stop the students and their teachers from making some truly inspiring art during these difficult times. As a result, the Bottle Works is proud to present a Virtual Gallery of student work from Bishop Guilfoyle, Bishop McCort, DMCA, Holy Name, Holy Trinity, and St. Joseph's!
---
Arts Academy 2021 Student Exhibition
March 20 – April 30 2021 in the Black Box Theater Gallery
Our 2021 Arts Academy students experienced 9 weeks of high quality art lessons from professional artist in the fields of Drawing, Painting, and Folk Arts. Now it's time for us to show off their results!
Visit our Tulip building gallery and Black Box Theater Spaces, and show your support for these young blossoming artists.
---
Spring Show 2021
May 6 – July 2 AW Main Gallery
Opening reception Friday May 21 from 6-8 PM
The Bottle Works is Excited to host the 2021 Allied Artist's of Johnstown Spring Show!
The Allied Artists' of Johnstown organization has over 100 talented members, and this is the show that allows new members the opportunity to join.
About the Juror:
Carol Brode is on the faculty at Seton Hill University in Greensburg, PA, where she serves as Director of
Harlan Gallery and teaches studio art courses, including Painting and Printmaking, as well as
Contemporary Art and Criticism and Non-Western art history. She has curated many exhibitions for the
gallery, including the artwork of regional, national, and international artists.
Carol is a member of the College Art Association, the Associated Artists of Pittsburgh (past board member
and exhibitions chair), Group A, and is listed in the Marquis Who's Who of American Women. Her work
has been exhibited at the Carnegie Museum of Art, The Westmoreland Museum of American Art, The
Mattress Factory, the State Museum of PA, and the Pittsburgh Center for the Arts, as well as in many
other galleries and venues.
Her artwork is in the collections of many regional corporations, including Westinghouse, Duquesne Light,
Dravo Corporation, and others, as well as in many private collections. She received her MA and BA
degrees from Indiana University of PA, and did additional graduate study at New York University, as well
as post-baccalaureate studies in Art Education at the University of Pittsburgh
---
The Mind's Eye
The Art of Harry Price
"Travel with me to what can only be seen by the mind's eye!"
The Bottle Works is proud to present The Mind's Eye – The Art of Harry Price in our Activities Center Gallery from May 6- July 2.Opening reception will be held during our 3rd Thursday on 3rd Avenue event on May 20 from 6-8 PM.
Mr. Harry Price started drawing and creating as a youth and never stopped. Harry is drawn to abstract art because it is a "combination of the talent of the artist and the interpretation of the viewer".
---
Upcoming Exhibits
Hometown heroes – Steve ditko Exhibit July 15-Sept 11 main exhibit space
"ditko inspired" Exhibit July 15-sept 11 Events room gallery
History of papercutting-kathy trexel reed july 15-sept 11 black box theater
The art of ann dougherty sept 23-nov 5 main exhibit space
club works exhibit sept 23-nov 5 events room gallery
The art of Sandy vigna Sept23-nov 5 black box theater
The art of dan eash nov 18-Jan 2, 2022 main exhibit space
small works juried exhibition nov 18-jan 2, 2022 events room gallery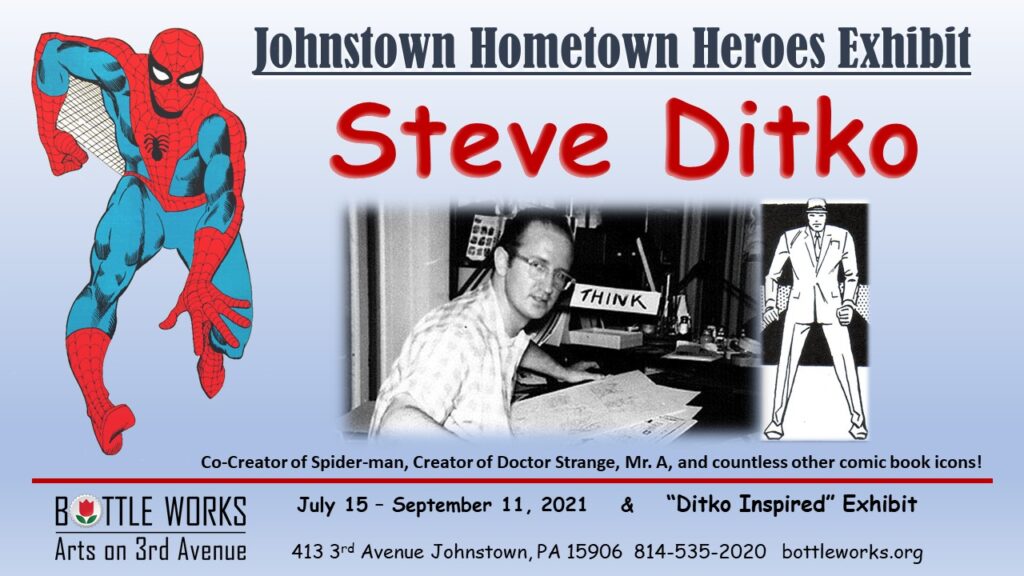 ---
Please note that the Bottle Works engages in photography and recording of programs and events for its own print and online publication/promotional purposes. Staff and volunteers will make every effort to notify members of the public when filming and/or photography is taking place. Please notify a staff member/volunteer if you do not want to be photographed or filmed.