In person sessions are sold out due to CoVid restrictions. If you are interested in virtual please contact Holly Lees at hlees@bottleworks.org
Segment Two – Painting: Watercolors, Portraits and Mixed Media
Class Dates February 13, 20, & 27, 2021
Class Time: 9:30 AM – 12:30 PM
Explore the discipline of painting with these three talented artists. You will learn painting basics, techniques, and more from Beverly Struble (painter and potter), Sarah Hunter (painter and art educator), and Kimberly Williams (painter and mixed media master) during segment two of Arts Academy.
Each week participants will learn a different skill, and at the end of the segment, students will have three unique pieces of artwork using watercolor, acrylics, and mixed media. Creating can get messy, so please wear clothes that can get messed up!
"If you hear a voice within you say you cannot paint, then by all means paint and that voice will be silenced." – Vincent Willem Van Gogh
Class One: Abstract Watercolor Pencils with Beverly J. Struble
Class Date: February 13, 2021
Class Time: 9:30 AM – 12:30 PM
Paint the desires of your heart with local artist and educator Beverly J. Struble. Valentine's Day is around the corner, and to get in the spirit of "love", Ms. Beverly will ask students to create a painting inspired by the people or things they appreciate and adore. Participants will explore watercolor techniques and finishes using common household items such as table salt, rubbing alcohol and more. The purpose of this workshop is to teach students how to create from their heart-space, rather than their mind.
Ms. Beverly and Ms. Holly will also lead students in a mindfulness session centered around gratitude, love, and joy.
About Beverly J. Struble
It would seem that an environmental biologist and master level social worker could not be a gifted artist, but this is not the case for Ms. Beverly J. Struble. Her passion for nature, animals, and her overall love the environment influences the art she makes. Ms. Beverly has worked in the Arts and Culture sector for many years. Before becoming an Arts Education Teacher at Divine Mercy Catholic Academy eight years ago, she worked as an art museum coordinator giving tours and organizing educational programs.
Ms. Beverly finds joy painting, making pottery, and encouraging aspiring artists to know that there are no mistakes in art, only opportunities for creativity. Ms. Beverly resides in Johnstown, Pennsylvania.
Class Two: Self-portraits with a Twist with Sarah Hunter
Class Date: February 20, 2021
Class Time: 9:30 AM – 12:30 PM
Before selfies on Facebook and Instagram, the only way to portray oneself was through the art of self-portraits. Self-portraits became extremely popular in the Mid-15th Century. Artists could paint themselves as the main subject, as heroes in their own stories or as whatever their minds could imagine. Self-portraits provides an opportunity to capture a version of oneself that no one else sees. With the guidance of professional artist and educator Sarah Hunter, students can sketch and paint, on canvas, a self-portrayal of themselves using a photo or their imagination as inspiration. During this exercise, painters are encouraged to change or exaggerate facial features. Again, artwork is based on how you see yourself. Work does not have to be realistic. Artists will learn about proportions, values, and more. Students taking this class are asked to bring a picture of themselves to class.
About Sarah Hunter
Ms. Sarah is an emerging artist who resides in Westmoreland County. She is most recognized for her prolific portraits that seem to capture the beauty of the human spirit in every stroke. As an artist, she not interested in representing the reality of the world as directly seen; rather, her intent is to allow audiences to see and feel the layers underneath: the emotions, the spiritual exoskeleton of the human race and of nature. Her goal when teaching others is to help them explore what could be and the unseen.
Ms. Sarah graduated from Saint Vincent College (Latrobe, Pennsylvania) in 2012. She teaches art classes at various art centers Westmoreland County. She has exhibited her paintings in several galleries such as the Bottle Works Ethnic Arts Center, the Greensburg Art Center, Latrobe Art Center, Saint Vincent College, and the Westmorland Cultural Trust's Art in the Alley. Her pieces are also included in the Saltsburg Free Library's permanent Collection.
Check out Sarah's artwork on her Website:
www.thecensoredartist.com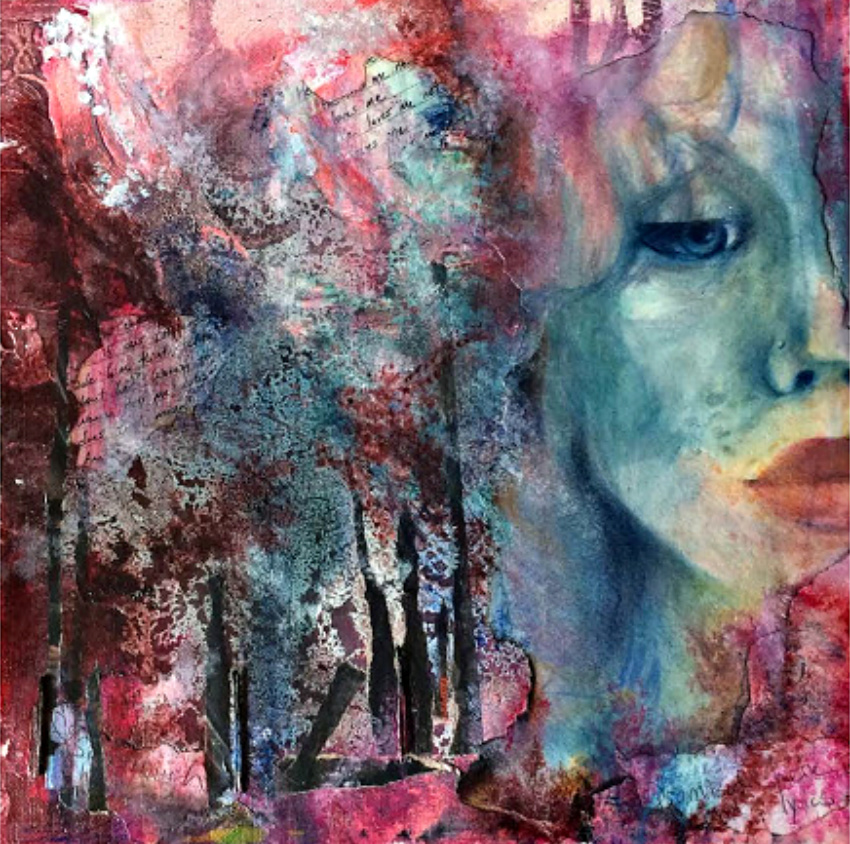 Class Three: Inspired Mixed Media with Kim Williams
Class Date: February 27, 2021
Class Time: 9:30 AM – 12:30 PM
Flex your imagination in this super-creative workshop with mixed media artist Kim Williams. Ms. Kim will teach students how to recognize what inspires them and how to use these inspirations when designing art. Students are encouraged to bring along anything that engages your creative mind, also known as ephemera. Such items can include poems, pictures, books, letters, and small trinkets. At the end of the class, each student will have a 6" x 6" gallery wrapped canvas artistically describing what motivates them.
About Kim Williams
Kim Williams discovered her love for at a young age. Her father saw that she has a natural ability and sought to find formal instruction for this young creative. She began taking art classes from a community art teacher. Her love for art lead her to earn a degree from The Art Institute of Pittsburgh. As an art professional, Ms. Kim worked at the Tribune Democrat/ Johnstown Magazine as the Design Editor. During her 33-year career, she created advertisements and designed books published by the Tribune Democrat. Books she designed include Homelands, Domes and Spires, Heroes Were Made, and Slap Shots and Snapshots.
In 2015, Ms. Kim decided to fully pursue her art career. She the proud business owner of 365 Inspired Art, which features nature-themed artwork. She was also showcased her work in various exhibition at the Southern Alleghenies Museum of Art in Altoona, Pennsylvania and the Bottle Works Ethnic Arts Center in Johnstown, Pennsylvania. Check out Kim Williams artwork at her Website:
www.kimwilliamsfineart.com